Little mentioned in all the excitement about the new Whitney ocean liner (as I described it Tuesday on WNYC), which is expected to be launched in late 2012 in New York's Meatpacking District, is that several buildings will be have to be demolished and businesses relocated to make way for it. (The museum will also construct a new meat refrigeration facility as part of the deal. Can they cold-storage film in there, as well?)
But wait! Stop the bulldozers! There's art displayed on those buildings: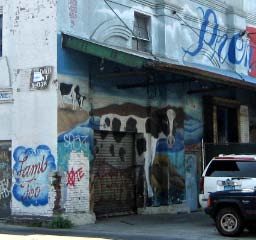 A mural with two whimsical cows on the former Premier Veal (Lamb Too) facility…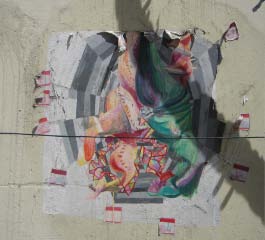 …and an intriguing abstraction around the corner (which would look even better without the shadow)
And worst of all, does the Whitney really want to risk an intellectual property/moral rights lawsuit by messing with this copyrighted doodle?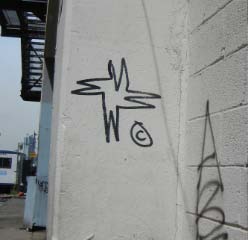 And they thought they only needed real estate lawyers! Go see this lively display at the corner of West and Gansvoort streets, while you still can.
Speaking of real estate—also little discussed (aside from this report in Crain's) is that the Whitney is hoping to sell the four (not five, as stated by Crain's) brownstones adjoining its Madison Avenue headquarters that it had acquired for use in its aborted uptown expansion. The sale proceeds would be applied to the downtown project.