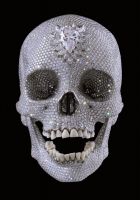 Damien Hirst, "For the Love of God," 2007
It looks like the investment syndicate that owns Damien Hirst's diamond skull, "For the Love of God," has finally succeeded in lining up an exhibition for it at a major museum: The Rijksmuseum, Amsterdam, has just announced that it will present the "world premier of the work's international tour," Nov. 1-Dec. 15.
But wait! There's more:
To accompany the exhibition, Hirst has chosen a personal selection from the Rijksmuseum's collection of 17th-century art…."For the Love of God" and Hirst's personal selection of works from the
Rijksmuseum collection reveal how fear of death has provided a theme in
art over the centuries.
This is the same museum that previously let film director Peter Greenaway have his way with Rembrandt's iconic "The Night Watch." The obvious approach for Hirst would be to haul out the vanitas pictures.
An exhibition of the skull at the State Hermitage Museum, St. Petersburg, had been scheduled for last March, but as Georgina Adam reported in the Financial Times in April, those plans fell through. No word yet on the next stops for the pate's "international tour."
But any museum that displays this bauble is abetting the syndicate's admitted objective: to boost the value of its purported $100 million investment through exposure at prestigious venues.