I come to praise Gary Tinterow, not to bury him.

CultureGrrl readers know I've been periodically critical of the Metropolitan Museum's curator of 19th-century, modern and contemporary art. But in a laudable collection-sharing arrangement that we can only hope will proliferate more widely at the Met and other institutions, Tinterow has agreed to long-term loans of some 28 mid- to late -20th-century sculptures to the University of Texas at Austin, to be installed across campus as part of the school's ambitious Landmarks public art program.
What's more, it's a collegial loan, not a fundraising rental. Carol Vogel of the NY Times reports (scroll down):
The university is paying for the installation, shipping and insurance;
the Met is not charging a loan fee. The loan agreement is renewable in
five years.
You don't need a long memory to remember Gary's unfortunate plan to sell at Sotheby's the Met's Chillida sculpture, Silent Music II. That sale was aborted after the work's donor angrily objected. The piece had been part of the 1987 inaugural installation on the Met's roof garden, but Tinterow declared a couple of years ago that the museum no longer intended to exhibit it. In a happy resolution of the contretemps, that sculpture was loaned in 2006 to the grateful Nasher Sculpture Center, Dallas.



Andrée Bober
, director of Landmarks at the UT Austin, told me she had approached the Met for the loans after learning that Tinterow's department had identified pieces that "they weren't able to show due to space limitations. This seemed like a perfect opportunity for us to establish an art historical foundation for building our own collection." Some 17 works are being installed this month across campus. Eleven more will be installed at the Bass Concert Hall in January, after the completion of its renovation.
But what about the security of these museum works in such a public setting?
Bober offered these reassurances:
Works were chosen with durable materials (steel, bronze) and they will be placed in areas with good visibility. Some works will also have security cameras and vibration alarms attached. The program has a conservator that will be on call if any urgent conservation needs arise.
Below are four of the pieces. The Tony Smith was photographed while installed in the Met's roof garden. Other artists include Magdalena Abakanowicz, Anthony Caro, Jim Dine, Bryan Hunt, Donald Lipski, Beverly Pepper, Seymour Lipton and Ursula von Rydingsvard.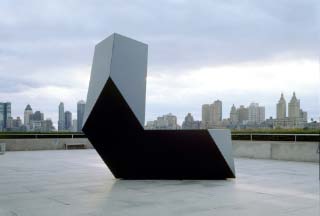 Tony Smith, "Amaryllis," 1965, Metropolitan Museum of Art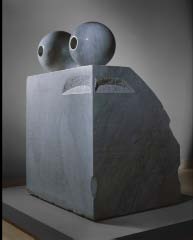 Louise Bourgeois, "Eyes," 1982, Metropolitan Museum of Art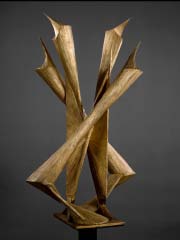 Antoine Pevsner, "Column of Peace," 1954, Metropolitan Museum of Art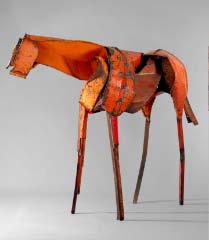 Deborah Butterfield, "Vermillion," 1989, Metropolitan Museum of Art