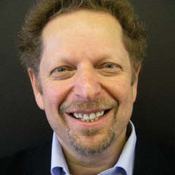 Edward Lifson, photographer-blogger
As a photographer, I'm a pretty good writer. But there's one art-and-architecture blogger who really knows his way around the megapixels. That's Ed Lifson (above) of the New Modernist blog, with whom I bonded at the Clark Art Institute's press preview for the Stone Hill Center. He even granted me permission to reproduce on CultureGrrl one of his Clark photos, which was so much better than my own shot aimed at the same subject. (As I mentioned, I can't blog the Clark until I Wall Street Journalize it.)
I was planning this week to post a photo essay, complete with video clip, of the work going on at MASS MoCA (a short drive from the Clark) to install 100 Sol LeWitt wall drawings (up from 50 at the time of the original announcement), from 1968 to 2007, which will be displayed for at least 25 years in one of the contemporary museum's former factory buildings. After the first term, there will be a "generational referendum," when MASS MoCA, Yale University (which owns many of the drawings) and the artist's estate will decide whether to continue the installation for another term, "or get out the whitewash," according to Joe Thompson, MASS MoCA's director.
Shortly before his death in April 2007, LeWitt selected the building from MASS MoCA's inventory of raw industrial space, and also designed the interior walls and layout for the installation. The works come from those given by the artist to Yale, as well as from other public and private owners who have loaned the copyright and the artist's instructions.
The building is now alive with all sorts of music from Motown (my favorite) to…I don't know what, accompanying the drawing, scribbling, sponging and painting by a young, meticulous crew that includes assistants from the artist's studio and college students majoring in studio art and art history. More than 60-strong, these Sol-sters are following LeWitt's detailed instructions for what will become a living memorial to his achievement, opening Nov. 16.
More than $10 million has been raised for the project by MASS MoCA and Yale University Art Gallery, whose director, Jock Reynolds, conceived the project and approached Thompson about using MASS MoCA's space. Joe told me he is now in discussions with other possible lenders about using other spaces in the complex for large-scale, long-term installations devoted to an artist, a private collection or an institution. He has clearly rebounded from the Büchel debacle and is back to catalyzing cutting-edge creative synergies.
Lifson's photo essay (linked above) is far more professional and comprehensive than mine could ever have been, which leaves me nothing more to do than highly recommend it and share with you two images, not redundant with Ed's, that I captured with my non-professional lens: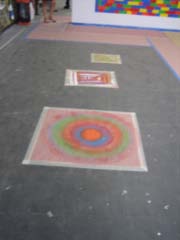 Some members of the LeWitt crew couldn't resist installing (temporarily) some of their own creations, affixed to the floor.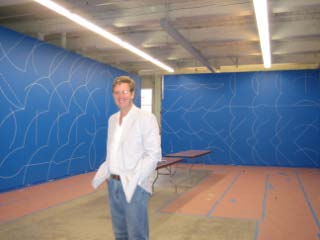 The garb of Joe Thompson, MASS MoCA's director, color-coordinates with "Wall Drawing 146A," 2000, white crayon on blue wall, LeWitt Collection.