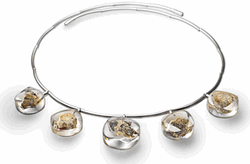 "Restoration Rocks: Fragments of the Guggenheim"
Have you always wanted to wear a piece of the Guggenheim? Now you can!
Construction debris from the restoration of the New York flagship has been recycled into (among other things) a $395 necklace (above). The architectural artifacts are encased in "hand-crafted acrylic."
Hey, it worked for Fallingwater: Go to the very end of my Wall Street Journal article about that other Frank Lloyd Wright fixer-upper, which involved a couple of the same firms overseeing the Guggenheim's makeover. "As a fundraiser," Fallingwater's director, Lynda Waggoner, told me five years ago, the pricey junk jewelry was "an
incredible success."
If you don't like your pebbles mounted on silver, how about a pair of Gugg gold cufflinks for $1,500?
Maybe desperate times call for desperate measures.