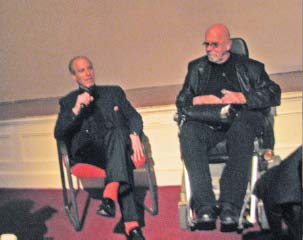 MoMA director Glenn Lowry (left) interviews a very outspoken Chuck Close at a recent conference in New York
This just in—a changing-of-the-guard press release from the Whitney Museum:
In elections held yesterday by the Board of Trustees of the Whitney Museum of American Art, current Chairman Leonard A. Lauder was named Chairman Emeritus, while continuing to be a voting member of the Board….In addition, Fred Wilson was elected Artist Trustee, replacing Chuck Close.
More than most heads of art museum boards, Lauder wielded influence over the Whitney's operations that seemed at least equal to, if not greater than, that of the succession of directors who came and went from the museum during his 14-year chairmanship. The announcement comes a little more than two months after Lauder pledged to give the museum the largest gift in its history—some $131 million—on the unusual condition that it not sell its original Marcel Breuer
building when it expands to downtown Manhattan's Meatpacking district. Soon after that announcement, CultureGrrl guest blogger Martin Filler opined that Lauder's strings-attached benefaction may have been "one of his most valuable gifts to the Whitney."
It's going to take two co-chairmen to fill the 75-year-old Lauder's shoes: Robert Hurst, formerly board president, and Brooke Garber Neidich, formerly vice chairman. Neil Bluhm, formerly vice chairman, is the new president.
As for Chuck Close—he was named to the board in 2000 under the prior directorship of Max Anderson. Today's press release hailed him as "the first artist to serve on a board of a major New York art museum." His was originally supposed to have been a one-year rotating artist's spot on the board, but the initial appointment stuck.
Close recently let it be known, however, that he felt disaffected from recent developments at the museum: In public comments during a Q&A with the Museum of Modern Art's director, Glenn Lowry (both above), at the "American Icons" conference that I recently attended at the New-York Historical Society, Close said, disapprovingly, that the museum was dropping the "American Art" part of its full name.
Close further observed:
A lot of the [Whitney's] trustees and a lot of the curators chafed under the idea that it has to be the 'Whitney Museum of American Art.' They wished they could have Kiefer….I think it's an incredible slap in the face of American artists, if we were to suggest that the only museum in the United States solely devoted to the work of American artists can't find enough interesting American art and artists to show. What an insult! It's also our branding; it's our specialness; it's what makes us unique.
My initial surprise at this incautious candor is tempered by the knowledge I now have that he was on his way out. There's no current indication however, on either the Whitney's website or its press releases, that it will be dropping the last three words from its traditional title. In any event, Close is wrong in his assertion that the Whitney is the only U.S. museum solely devoted to the art of this country.
What seems clear, though, is that Close perceives what he considers to be a regrettable impending change in the Whitney's time-honored mission. Time (and the reconstituted board, under director Adam Weinberg's leadership) will tell.