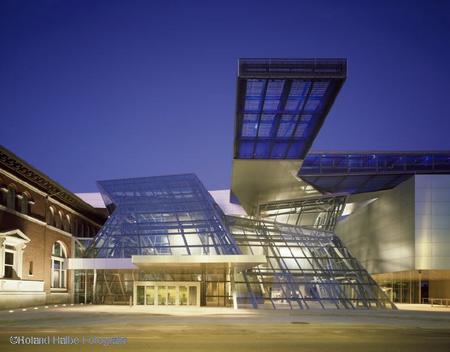 Arkon Art Museum
By Martin Filler, Guest Blogger
After yesterday's accolades, here are my selections (by no means comprehensive) of the worst new museum architecture completed last year. Consider these as stand-ins for similar examples that share the same basic problem epitomized by each of these three.
—John S. and James L. Knight Building, Akron Art Museum, by Coop Himmelb(l)au (above): Just as there are fashion victims whose gullible trendiness blinds them to how ridiculous they appear, so there are architecture victims. Among the latest is the Akron Art Museum, now saddled with an architectural dud of the decade: the formally confused, haphazardly detailed, instantly dated-looking wing by Wolf Prix, of the annoyingly named Vienna firm Coop Himmelb(l)au. A leading exponent of Deconstructivist design, Prix gave these misguided clients the gee-willikers conversation piece they wanted. But far from it being the next Bilbao, this provincial embarrassment offers graphic evidence of the museum world's badly inverted priorities. The Akron addition's strenuously flamboyant yet oddly inhospitable public spaces lead to some of the dullest, least imaginative exhibition galleries I've seen in a long time, making this my suggested first stop on a how-not-to-do-it tour for museum building committees.
—Kogod Courtyard, Smithsonian American Art Museum and National Portrait Gallery, Washington, by Foster + Partners: There's no denying the technical expertise and faultless execution guaranteed by the London-based firm of Norman Foster. But one of the most pointless fads in recent museum architecture was started by Foster's glass-roofed Queen Elizabeth II Great Court of 1999-2000 at London's British Museum. There's something deeply weird about that space, bathed in a surreal glow that makes everything and everyone beneath the diamond-latticed canopy seem fake. Sure, London was the site of the seminal Crystal Palace, granddaddy of all shopping malls, but the growing compulsion to glaze over museum courtyards everywhere smacks of suburban commercialization. The DC variation on the London theme features graceful undulations, but one's ultimate response is "So what?" Given the financial and organizational problems that have plagued the embattled Smithsonian system lately, it's too bad that the generosity of patriotic donors wasn't applied to something more urgent than a vapid display of engineering skill, which adds nothing meaningful to these two underappreciated institutions.
—Creation Museum, Petersburg, Kentucky, by A.M. Kinney Associates: At a time when museums are accused of turning into theme parks, along comes a bizarre new institution that makes Walt Disney World seem like the Albertina. This is hardly surprising, since the displays at the Creation Museum were dreamed up by a former Universal Studios designer, Patrick Marsh. I use the term "institution" in both the museological and the psychiatric sense, because this only-in-America looney bin is no more a museum than I am Napoleon. Even more unsettling than the Creation Museum's mission to enlist impressionable children in the Christian fundamentalist crusade against scientific reason is the fact that there are already two dozen such creationist museums in this country, though few approach this level of presentation. In its flat-out rejection of the Enlightenment rationalism that made the United States possible in the first place, the Creation Museum is more frightening than Disney's Haunted Mansion. Let us pray.