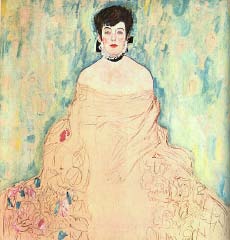 Gustav Klimt, "Portrait of Amalie Zuckerkandl," 1918 (unfinished)
E. Randol Schoenberg, the lawyer who obtained restitution from Austria to the heirs of Ferdinand Bloch-Bauer of five works by Gustav Klimt (including the famed "Adele Bloch-Bauer I"), informs me that the Austrian Supreme Court last week rejected the heirs' appeal of a 2006 arbitration decision against the return of a sixth Klimt, "Portrait of Amalie Zuckerkandl" (above).
Aside from disappointing his clients, the court opinion, Schoenberg asserts, runs counter to Austria's own laws and marks a "disconcerting" shift in that country's legal posture concerning restitutions to Nazi victims and their heirs. Austria's Third Restitution Law, he said, had explicitly "recognized that the Jewish victims (having fled or been deported) would
ordinarily not have the evidence to prove what had happened to their
property, so…it became
the burden of the person receiving the property to prove that the
transaction was fair and untainted by Nazi persecution."
But now, according to Schoenberg's analysis:
The Court held that the arbitrators made a plausible decision to interpret the 1998 art restitution law in a way that abandoned the decades-old rule shifting the burden of proof [to the person receiving the property]….The Court wasted not a word on the unfairness to the victims of the Nazis in shifting the burden onto them after so long a time….No longer will transactions undertaken with Jewish property during the war be presumed to be part of the Nazi plan of total expropriation and annihilation….

Rather than afford itself the power to return artworks that would be presumed under long-standing Austrian restitution laws to have been confiscated during the war, under the Court's interpretation, the government is now PROHIBITED [emphasis Schoenberg's] from returning paintings with dubious provenance.
The unfortunate effect of the Bloch-Bauer heirs' suit for the sixth Klimt appears, then, to be a significant hardening of Austria's stance towards restitutions. Schoenberg had previously told me that he didn't think he would win this case. But I doubt he expected to lose it this badly.