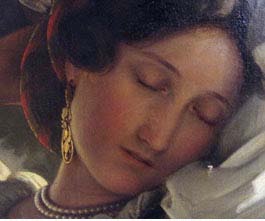 Detail from Franz-Xaver Winterhalter's "Girl from the Sabiner Mountains"
A recent U.S. District Court decision ordering the return of a Winterhalter to the heirs of Jewish art dealer and collector Max Stern, who had owned it before fleeing Nazi Germany, "effectively expands the definition of 'looted art,'" asserts arts writer Marilyn Henry, who frequently explores art-restitution issues, in an opinion piece for the Jerusalem Post.
On Dec. 27, U.S. District Court Judge Mary Lisi ordered Maria-Louise Bissonnette of Providence, RI, to return "Girl from the Sabiner Mountains" (detail, above) to the estate of Stern, who emigrated from Nazi Germany to London and then Montreal.
Although "looted art" is commonly understood as objects directly seized by the Nazis, Judge Lisi ruled that Stern's surrender of the painting for auction was "the equivalent of an official seizure or a theft," because the sale was ordered by Nazi authorities.
Claimants have often argued that forced sales should be reversed. Now a federal judge has explicitly validated that argument. But the area of ambiguity in certain cases is whether specific sales were voluntary or compelled.
The Providence Journal, providing one of the most detailed published accounts of the Stern case, said that a lawyer for the estate, prominent Nazi-loot litigator Thomas Kline, believes the recent decision will buttress future claims by families of Nazi victims who lost works through forced sales.
David Scharfenberg of the Journal reports:
"Girl from the Sabiner Mountains" surfaced in January 2005 when [Maria-Louise] Bissonnette attempted to auction it through Cranston [RI]-based Estates Unlimited. Bissonnette's stepfather Karl Wilharm, a physician and high-ranking member of the Nazi party, according to the Stern estate, had purchased the painting in the forced auction of 1937 [at Lempertz Auction House, Cologne].
And Bissonnette inherited the painting from her mother's estate in 1991, according to court documents. When she attempted to sell it, the Stern estate made a claim for restitution with the Holocaust Claims Processing Office, a wing of the State of New York's banking department.
The Journal also noted that Bissonnette has "shipped the painting to Germany and sued the Stern estate in the German courts in a bid to establish ownership." The German courts had not yet ruled when the U.S. decision was handed down.
According to a press release from Concordia University, one of the three university beneficiaries of Stern's estate (along with McGill University, Montreal, and Hebrew University, Jerusalem), the estate intends to "actively pursue more than four hundred other paintings" from Stern's collection.
For a list of missing Stern works, go here and click "Missing Works" at the top.