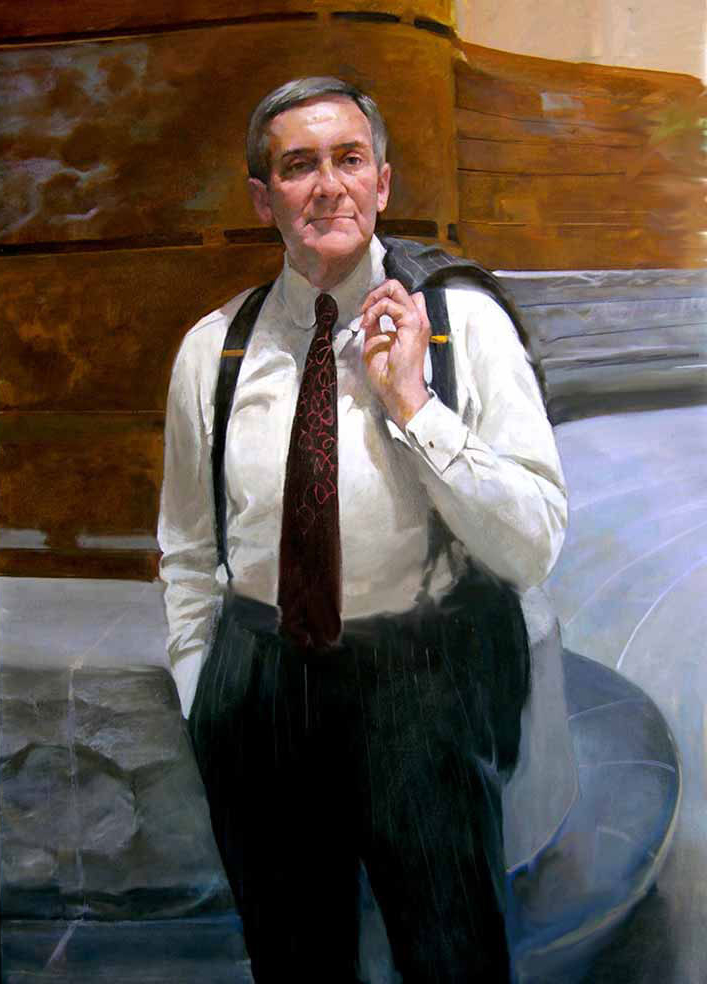 Commissioned Portrait of W. Richard West Jr. by Burton Silverman, 2005
The Rick West story gets worse: It now has an iconic symbol of self-aggrandizing profligacy.
James Grimaldi reveals in today's Washington Post:
W. Richard West Jr., the founding director of the Smithsonian's National Museum of the American Indian, spent $48,500 in museum funds to commission a portrait of himself. The portrait of West by New York artist Burton Silverman hangs in the patrons' lounge on the fourth floor of the…museum.
The online article doesn't show or describe the painting (above, from the artist's website), which portrays the suspendered director in a jaunty pose, in front of his new museum. (UPDATE: The Post has now posted the image.)
Grimaldi also reports that "pending a review of West's travel, the Smithsonian Board of Regents has removed West from the committee to select a new secretary of the Smithsonian to replace Lawrence M. Small, who resigned in March after questions were raised about his compensation and spending."
The Smithsonian is also "doing a 'quick review' of the travel spending of the top officials at the institution," now that Sen. Charles Grassley has written to the Smithsonian's inspector general, A. Sprightley Ryan, "asking her to look into the travel expenditures of West and those of the 17 other directors of Smithsonian museums." I shudder to think what revelations may ensue.
We can only hope that the search committee is on the verge of announcing a new Smithsonian secretary who can move quickly to clean house and restore to this troubled institution a sense of mission and integrity.
Calling Ellen Futter!