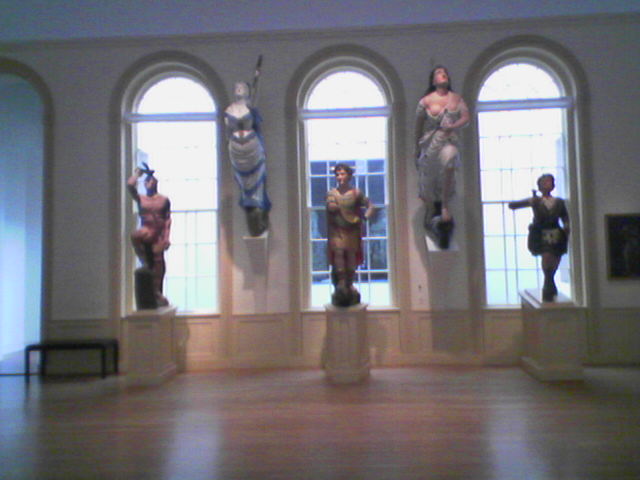 19th-Century Figureheads at Salem's Peabody Essex Museum
Let this be your launching point of your journey into world art.
So declares the wall label in the Peabody Essex Museum's spacious East India Marine Hall (above), whose cases contain testaments to the quirky, scattershot acquisitiveness of the members of the marine society that gave the hall its name. Those seafarers' cultural finds from around the world provided the initial core of the museum's collection. Completed in 1825, the hall was the first permanent home of the Peabody Essex, which bills itself as "America's oldest continuously operating museum."
But far from a "launching point," the former heart of the museum was sadly devoid of visitors when I visited it last month. It had been upstaged and engulfed by the museum's 2003 Moshe Safdie-designed expansion.
Almost all the action was in the thronged Joseph Cornell retrospective on the top floor, and in the cavernous entrance atrium, whose main attraction was not art, but food.
In what is becoming a recurring CultureGrrl theme, this is yet another instance of a grandiose museum expansion that has marginalized the founding impulse behind the institution, which had created its special character. This was also the effect of the striking Renzo Piano atrium that took Morgan out of the Morgan, and it's certain to happen with the mega-Barnes in Philadelphia (if its controversial plans materialize).
The Salem, MA, museum's eclectic collection owes much of its eccentric but endearing disjointedness to its adventurous origins. Navigating through Safdie's spaces often seems (less endearingly) as disjointed as the collection. Particularly irksome is the bridge that divides the top-floor galleries for temporary exhibitions, which bifurcated the Cornell presentation. For me, the most engaging part of the permanent collection was that which gives this institution its unique flavor: the paintings, ship models and nautical paraphernalia related to maritime arts and history.
Meanwhile, in other Salem news: I KNEW there was a reason why I was mystically attracted to this historic town, where I had never alighted before. Turns out that its town council recently removed some pesky legal restrictions and is now Letting Witches Be Witches in Salem. Perhaps this should this be my retirement destination. Do you think the Peabody Essex will have published a handbook of its permanent collection by then? How about the Joseph Cornell catalogue?