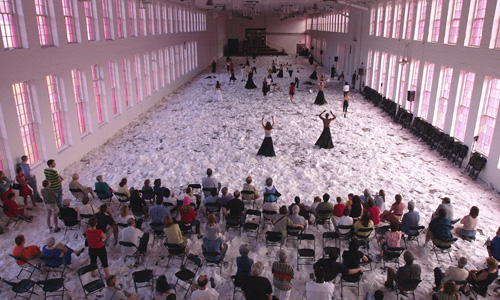 The space where Christoph Büchel's "Training Ground for Democracy" was to have been installed
Although it doesn't mention NY Times art critic Roberta Smith by name, the Sept. 18 entry on MASS MoCA's blog, FAQ re: Training Ground, was clearly intended as a rebuttal to her Sept. 16 diatribe against that institution for its handling of the aborted Christoph Büchel installation.
Here are a couple of MASS MoCA excerpts:
To encourage Mr. Büchel to finish the work, MASS MoCA extended the installation time from six weeks to more than three months, provided nearly twice the budgeted funds (over $300,000), and then offered an additional $100,000 to finish the work. Despite this, the artist refused to complete the piece. MASS MoCA offered him the opportunity to remove the materials, reimbursing the museum for their actual cost, which he also refused….
The only relief we have sought [in the lawsuit going to trial today] was a clear declaration of the parties' rights, and a decision from the court that would allow MASS MoCA to move forward. Mr. Büchel…has asserted a number of counterclaims against MASS MoCA seeking to compel the museum to pay him monetary damages….Mr. Büchel has also made and sold or attempted to sell certain art works incorporating court filings from this dispute.
Buchel's list of demands and his full account of the dispute were published on Geoff Edgers' Exhibitionist blog, here, here and here.
The artist's lawyer is the Art Law Blog's author, Donn Zaretsky. He posted a copy of a letter that he sent to MASS MoCA here.
They protagonists are set to slug it out in Springfield, MA, federal court today at 2 p.m. I'd like to avert my eyes from this painful spectacle.