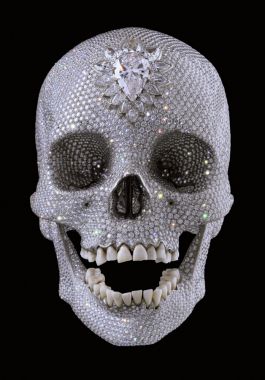 Damien Hirst, "For the Love of God," 2007, platinum, diamonds and human teeth
Photo: Prudence Cuming Associates
What to make of Damien Hirst's "For the Love of God," the $99-million, diamond-studded, tongueless tongue-wagger now preening at White Cube Mason's Yard gallery in London, the centerpiece of his solo exhibition Beyond Belief (to July 7)?
I regard Hirst as inexhaustibly (sometimes exhaustingly) provocative and profound, and the photographic images of the skull (above) look at once perversely seductive and deplorably decadent. I haven't seen it, so I'd best leave further commentary to others.
Martin Gayford in today's Bloomberg opines:
It's simultaneously real art, conceptual art and, what's more, it's a clever joke….Hirst's skull is not only a symptom of excess, it's also a witty comment on the situation. Like Hamlet, he's holding up the head bone and saying, this will be you too. The fact that Hirst and his team will laugh all the way to the bank—perhaps an off-shore account—does not make it any the less darkly amusing. And it doesn't make it less valid as a work of art.
An equally thoughtful but far more censorious take comes from a letter writer to the Glasgow Herald. S. Golden of London writes:
This arrogant use of diamonds for an art work at a time when the world is questioning the origin and implications of such gems [i.e., "blood diamonds"] is unethical. Perhaps what Mr. Hirst calls this "crazy idea" could have been more thoughtfully achieved using synthetic gems. Mr. Hirst appears driven to be the major player in what many consider to be a rather vulgar, macho, low point in art history. One can only hope the future does not lie with this kind of art and art dealing, out of sync with progressive thinking, bigged up to the max, pandering to privileged ideals and perpetuating the sad fact that money talks.
Let's face it: High-minded political and social consciousness is not what this artist is after. At a time when almost nothing in art can shock us any more, Hirst does his worst to mine our deepest veins of unease.