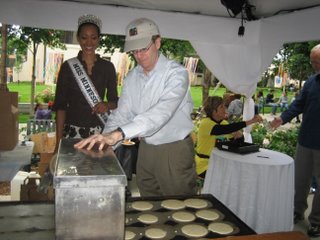 Griddle Griswold in a Minneapolis Moment
As fast as you can flip a flapjack, William Griswold (above, at Opening Day for his expanded museum) is leaving the Minneapolis Institute of Arts [via], where he became director less than two years ago, to take charge at the Morgan Library & Museum in New York.
"I'll be there at the beginning of next year," he told me by e-mail last night, adding that he was "excited to be back in New York." He succeeds Charles Pierce Jr., who oversaw the institution's recent Renzo Piano expansion and in January announced his intention to retire.
Griswold had previously been head of the department of drawings and prints at the Morgan. He's also worked at the Metropolitan Museum and at the J. Paul Getty Museum, where he rose to become acting director and chief curator.
In his own Director's Statement on his current museum's website, Griswold notes: "June marks the first anniversary of the opening of the MIA's expansion."
Now there's going to be a lot less for them to celebrate.
I knew he was (deservedly) a rising star, but this is almost unseemly haste. Now Minneapolis has two top visual arts spots to fill. And I doubt that the Morgan will be Griswold's last stop.