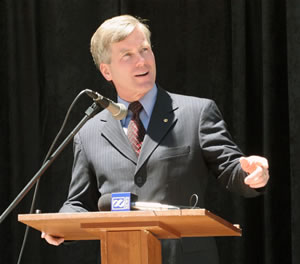 Virginia Attorney General Bob McDonnell
Carol Vogel in today's NY Times takes the Randolph-Macon ball and moves it down the field.
Vogel reports:
"We're looking to see if there are other entities who might want to partner with us so that we don't have to lose the collection," said Virginia Worden, an alumna and the college's acting president. "We have had auction houses come and evaluate the art and are talking to every institution we can."
In return for a financial payment to the college, for example, a partner could share ownership of the collection.
Vogel also confirmed that Alice Walton did indeed visit the Lynchburg, VA, campus to view the Maier Museum's collection, on behalf of her planned Crystal Bridges Museum.
Like Randolph-Macon Woman's College, Fisk University had also been hoping for some kind of arrangement where it could sell some art and keep it too. Nobody bit.
Maybe, as in the Fisk deaccession controversy, what's needed is a proactive attorney general, ready to defend the public's interest in the public's patrimony.
Bob McDonnell, please call your Tennessee counterpart, Robert Cooper!