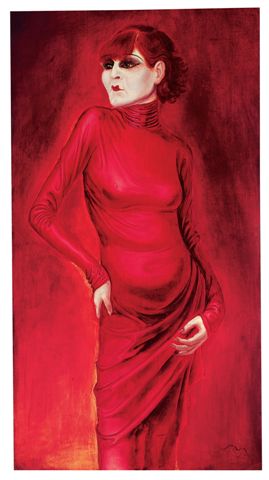 Otto Dix, "The Dancer Anita Berber," 1925, Loan of the Landesbank Baden-Würtemberg in the Kunstmuseum Stuttgart, c. Artists Rights Society, New York/VG Bild-Kunst, Bonn
Health Warning: The contents of this exhibition may cause shock, vomiting, confusion, panic, euphoria, and anxiety.
No, it's not the Young British Artists at the Brooklyn Museum. It's the old German ones from the Weimar Republic, flaunting their raunchy decadence in Glitter and Doom: German Portraits from the 1920s, the angst-drenched exhibition opening today at the Metropolitan Museum. Never has the pursuit of pleasure looked so grim.
With its unsparing and disturbing depictions of masturbation, prostitution, mutilation, drug use, sadism and syphilis, not to mention abundant eroticism, this is the first Met show that I can remember with a "Parental Discretion" warning at its entrance: "Some works…may be unsuitable for children."
Perhaps it would have been more prudent to put the more hardcore material deeper into the exhibition, Mapplethorpe-style, rather than right at the entrance, where children can easily meander. And it might have been better to integrate preparatory drawings with the paintings to which they are directly related, rather than isolate different media in different rooms.
It would also have been nice if this show could have been coordinated with MoMA's Dada show, which closed two months ago and covered the same between-the-wars period, presenting a more intellectual, experimental strain of provocation.
All the same, "Glitter and Doom" (with an emphasis on the latter) is a tough, powerful show, sharply deviating in its deviance from traditional high-toned Met fare. We assume that its curator, Sabine Rewald, penned its down-and-dirty texts, such as:
Anita Berber was notorious as a dancer and nude performer, an actress, a seductress of men and women, and a cocaine and opium addict….To her contemporaries, she was perversion incarnate.
Wilkommen.