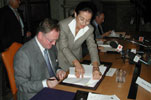 …because he's signing an accord to turn over to Italy 13 antiquities from his museum's collection—objects that Italy says were illicitly removed from their country of origin.
The agreement, signed today in Rome by Malcolm Rogers (above), director of the Boston Museum of Fine Arts, not only includes provisions for cooperation on exhibitions, conservation, archeology and scholarship, but also "establishes a process by which the MFA and Italy will exchange information with respect to the museum's acquisitions of Italian antiquities," according to the statement jointly released by the museum and the Italian Ministry of Culture.
Kudos to the BMFA for publishing here the images and complete descriptions (including provenance) of the objects returned.
What the joint statement doesn't discuss is whether Italy may make future demands for other objects, and what guidelines, other than exchanging information, will affect the museum's antiquities acquisitions in the future.
UPDATE: Francesco Rutelli, the Italian Minister of Culture, will visit the BMFA in November, bearing objects (not yet publicly identified) to be loaned to the museum under the terms of the cooperative agreement.