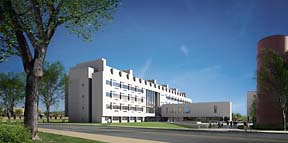 RENDERING OF CORNELL UNIVERSITY'S LIFE SCIENCES TECHNOLOGY BUILDING, NOW UNDER CONSTRUCTION
Richard Meier don't get no respect. First, the High Museum in Atlanta snubs him, choosing Renzo Piano to do the add-on to Meier's masterpiece. The result was a big, bland structure that CultureGrrl called "an architectural flop".
Now, in today's NY Times, Nicolai Ouroussoff calls Meier's new Ara Pacis Museum in Rome "a flop":
Mr. Meier's building is a contemporary expression of what can happen when an architect fetishizes his own style out of a sense of self-aggrandizement. Absurdly overscale, it seems indifferent to the naked beauty of the dense and richly textured city around it.
That kind of insensitivity tends to reinforce the cliché that all contemporary architecture is an expression of an architect's self-importance.
And that review reinforces the cliché that Meier is a self-aggrandizing, self-important individual. It seems as much a reflection of how people feel about this man as of how Ouroussoff feels about his work. (Alan Riding of the Times gives a more detailed history of the controversial project here.)
Ever since he did the J. Paul Getty Trust's campus in 1997—an ambitious project marred by public tension between architect and client, as well as by huge cost overruns—Meier has not been able to get the museum assignments that he loves. He has become pegged, instead, as a designer of extravagantly expensive apartment buildings. This Times review is not going to help him attract museum clients.
The Times also snubbed Meier in Robin Pogrebin's article last Tuesday, announcing the selection of Rem Koolhaas to design an addition for the College of Architecture, Art and Planning at my alma mater, Cornell University. Not only did the Times neglect to mention that another "starchitect," Meier, had a much bigger project (image above) already under construction on the same campus, but Meier was not even included in the article's two-architect list (Peter Eisenman and Arthur Gensler) of others who had attended Cornell's College of Architecture. (Meier graduated from the school; Koolhaas studied there.)
Meier's 250,000-square-foot facility was, at its groundbreaking ceremony a year and a half ago, projected to cost $140 million. But now, Charles Phlegar, the university's vice president for alumni affairs and development (whose job it is to help raise money for the project) says the cost will be $200 million. It is due for completion in late 2007 or early 2008.
Koolhaas's 43,000-square-foot facility is due to begin construction at the end of next year and to be completed in 2009, at a cost of $40 million.
Lucky Cornell architecture students: They get free front-row seats to a great architectural show.