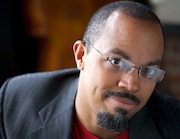 Rick Robinson is a bassist in the Detroit Symphony Orchestra. Educated at Interlochen Arts Academy, Cleveland Institute of Music and the New England Conservatory, he is deeply committed to making a difference in classical music, which he refers to as CLAM. He has created Cut Time Productions and several ensembles as a vehicle for bringing classical music to new audiences and proving its continued relevance. He's a whirlwind of energy and positive viewpoints, as well as being a fine musician and recognized composer. I wanted Rick to answer a few questions for this blog, since his views might spark some lively discussion, and he agreed.
John Thomas Dodson: Rick, in addition to your life as a professional orchestral musician, you compose, create opportunities for amateur musicians to experience music together, and even run small chamber ensembles. Why? What drives you?
Rick Robinson: What drives me is a burning desire to be of practical use while I'm alive. Life is short, especially when it has been as blessed as mine! Classical music is clearly very empowering for us who love it. I recognize and struggle with the idea that the vast majority in America don't recognize any VALUE to hearing classical music (clam). If we could reduce that alienation, I would be very happy serving that mission! If life tells you to be a bridge, be a bridge!
By and large, besides the reduction of music education in public schools, I attribute this alienation to the counter-cultural revolution of the 1960s, in which clam was closely associated with the ruling classes and conservative figures. The counter-culture, by definition, rejected everything traditional and thankfully developed many wildly imaginative new art forms and freedom of self-expression. Of course the explosion of technology also enabled a growing rift between cultures and art forms. Clam was stigmatized as cold, inflexible and "old school".
JTD: You've taken music to all kinds of unusual settings. Why?
RR: As black man I believe I'm in a unique position to make a case FOR clam as universal, relevant and HUMBLE. We shouldn't be afraid to be populist, playing in nightclubs, cafes and restaurants… places where people feel relaxed, can talk, drink, eat and laugh. The law of averages tells me that HALF will tune us out if we're there… but the other half will LISTEN and perhaps become more OPEN to clam's value in the future. We can STILL put it on a pedestal at Orchestra Hall. But we need to have FUN with it too, around people who didn't realize it COULD be fun or personal! What a difference we can make!
JTD: I know that you've recently begun creating opportunities for amateur musicians to experience music together. What are you learning?
RR: Offering classical music as a fun and FREE experience is a revolutionary idea… one that many clammers might embrace now. Playing with amateurs too places the newcomer SQUARELY onstage with us. Hence I started the Detroit chapter of Classical Revolution with impromptu music sight-reading sessions while DSO has become dysfunctional. The impact is IMMEDIATE. Many newbies thanked me for bringing music "that wasn't crap" – muisc that they just don't hear anywhere else for whatever reason. They began to see why people would PAY for it! We shouldn't keep saying "classical is the BEST" as that smacks of arrogance. Let's put it out there, show respect for other music and let people come to their own conclusions. Oh, and let's shorten those long words too!
JTD: Putting music in different contexts and venues is, of course, a really interesting idea. I often wish the concert hall experience would be completely re-imagined. And the idea of making music participatory again – opening it up to amateurs in your Orchestra Revolution project in Detroit – seems like a way to break down more barriers, albeit with people who at least can read music. The push/pull here is choosing WHAT to change and what to keep in any live-music setting. Obviously there's a lot of room for different approaches here, and it seems that different organizations are exploring many different answers, but if you could tell someone what YOU see as some potential solutions, what would YOU suggest? Is it programming? format? talking/explaining? We all know that something isn't working. What are we missing here?
RR: I think what is missing is simply a COMFORTABILITY with classical music. Clearly music education is part of making us comfortable with clam. But without a recurring experience of this music in relaxed settings that our family and friends are ALSO positive about, there're declining chances to maintain that valuable relationship with the music. Clam must become an old friend who comforts and emboldens us.
My short answer is that we must do BOTH, ANY and EVERY-thing because no one or two ways will speak to everyone. So maintain the high-quality formal(ish) concerts where almost NOBODY speaks AND develop informal concert formats with both the orchestra and chamber groups. Also cultivate those amateurs to show their stuff because they prove that many are proud to play classical. This also demonstrates the differences between skill levels.
Talking gives us a chance to make people relax with a joke or a personal story that illustrates the emotional or applied power of this music. I often talk about how the next piece makes my toes tingle at the big climax when Bach shows all three themes fit perfectly together. Or how classical music builds dramatic tension and releases it in a series of waves that peak towards the end of the movement. I talk about how instrumental music developed quickly in opera as a way to describe actions even without words. How a musical gesture is every bit as suggestive as a physical one. I will even suggest a scenario to fit the START of some music and encourage the audience to imagine the rest.
Experimentation based on observation is essential moving forward. I go out to hear jazz a lot and can't help notice the sharp, steady beat of a drummer or bassist making everyone FEEL together. Perhaps it would behoove clam to point out the "obvious" to an audience. That WITHOUT a drummer, we INTERNALIZE the beat and enjoy the liberty to stretch, compress or simply PLAY with time itself! I liken a slow and sad movement to the blues. "If this movement were a movie, Hero A meets Hero B and they get in a car chase…" Perhaps I wouldn't say this to a sophisticated audience but certainly to a young or isolated audience (my favorite).
My major overhaul suggestion is to make this music part of a FULL EVENING of music… like a party. I like what The Cleveland Orchestra is doing with its popular Fridays at 7 series. Strolling dinner and cocktails, pre-concert chamber music, orchestra concert, then contrasting jazz, rock or crossover band in a standing room only space so young people will mingle and enjoy. Or continue the party at a nightclub. Just keep it going until midnight, amplify the chamber groups a little, and don't worry if things don't go perfectly! Video clips projected on a side wall will help keep things lively at the after-party. It sounds like a lot to coordinate, but with the right committed people, it should be do-able twice a month.
JTD: Thanks, Rick. Fascinating ideas, and I love that you just go out there and TRY something, rather than just commenting from the sidelines. Any last thoughts?
RR: I think we should remember that what makes it classical music is that Voltaire and the Age of Enlightenment thinkers who brought us modern day democracy 300 years ago were reawakening observations of the ancient GREEKS – that music shouldn't be just ornamental but reflect the natural ebb and flow of human thoughts and feelings. By taking on a contrasting second melodic theme, music acquired the ambivalence and dilemma with which we constantly wrestle. Haydn, Mozart and Beethoven turned this into the monumental art form that speaks to us still so well today. It says a lot that we keep finding new ways to re-freshen this form of music, even while enjoying many others. Life is beautiful!