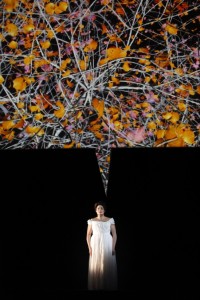 Two in one day.
First came the email from George Steel stating that the New York City Opera was descending into Chapter 11 – and will probably liquidate its assets. The company had sent out an emergency appeal in recent weeks for a $7 million bridge fund. At last report, it wasn't even close: $2 million.
Then, Osmo Vänskä resigned from the Minnesota Orchestra after a year's lockout, the occasion being the cancellation of upcoming Carnegie Hall concerts. After a history of excellent conductors (from Eugene Ormandy to Dmitri Mitropoulos to Neville Marriner), Vänskä may have been the best of them all – not just a musician of great experience and depth but also one who knew how to create excitement on a visceral level. Furthermore, the public knows the difference. Audiences weren't fooled by Eiji Oue (one of Vänskä's predecessors), an extremely personable public figure who wasn't ready for the job.
There's bad blood on both sides. But whoever did or said what, the bottom line is that management exists to support the orchestra, to enable it to do what it does best. And this management, whatever it says, is instead destroying the orchestra. To paraphrase a famous 1970s New York tabloid headline: Management to Minnesota Orchestra: Drop Dead. If this management team isn't able to do its job, it simply needs to get out and make way for one that can.

What the two incidents have in common: Quality and artistic vision aren't necessarily enough in 21st-century America. Proof of that is on any Minnesota Orchestra recording or CD broadcast under Osmo Vänskä. It's one of America's great orchestras, and I'm about the 80th critic to say so.

At the City Opera, Steel's Monodramas, a triple bill of one-act works by John Zorn, Morton Feldman and Arnold Schoenberg presented in the spring of 2011, was among the best things I've ever seen, designed with the meticulousness of an art installation with musical performances exuding comprehension and clarity. The production also pointed to directions that the company could go where the larger and grander Metropolitan Opera wasn't about to follow.
However, finding the audience for Monodramas needed more time than the company had. The business model insists that the performances be concentrated together. By the time Monodramas caught on, it was ending – in contrast to, say, the well-financed Bern Stadttheater, which is able to spread its performances of new works over many weeks.
Steel had some bad luck. He gambled on pop-slanted properties such as Stephen Schwartz's Seance on a Wet Afternoon and Rufus Wainwright's Prima Donna, neither of which got many votes from critics but had more to offer than works with more respected pedigrees that audiences go to see in order to stay sophisticated.
There were some out-and-out duds, such as Rossini's Moses in Egypt, but that's operatic Darwinism for you. There were some miscalculations: Though the dozens of naked guys in last season's Powder Her Face generated plenty of talk, it looked like a desperate publicity stunt. Yes, there were artistic reasons for the nudity, but there are other ways to make that theatrical point. 
But compare City Opera's incarnation of Anna Nicole with the Royal Opera DVD and one sees Steel's sure hand as a producer. The New York version was swifter and lighter, had dashes of Broadway panache and, most important, showed us a version of Anna Nicole Smith who exuded girlish charm rather than lugubrious sluttiness. Need I say the opera was considerably improved?

Steel, in my view, was the right guy stuck in the wrong economic climate – in a company that had lost too much ground by the time he arrived.
The one positive thing that one can say about this week's bad news is that these incidents aren't necessarily harbingers of the future. No other management would want to get away with what's gone on in Minneapolis. Opera companies in other cities – Philadelphia, for example – are going great guns with contemporary repertoire and artistic quality that's rising to meet the competition from the Metropolitan Opera HD simulcasts.
Luckily the performing arts in America are so decentralized that each city has its own set of challenges and advantages. But one thing you hear time after time, especially in opera, is that so much time is spent raising money that it's hard to concentrate on artistic matters – from Tito Capobianco during his tenure in Pittsburgh to Beverly Sills's salvage job at the New York City Opera (which was on the verge of closing when she arrived as its chief executive).
The question is not how the performing arts can be sustainable, but how we can best sustain them. It's been done for a long time.Why should it stop because some under-achieving suits aren't smart enough to make it work?