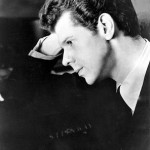 With any luck, Van Cliburn lived to watch the Oscars one last time.
The legendary pianist, who died Wednesday at age 78 after a long struggle with liver cancer, was that kind of guy. In the years after his 1978 retirement from full-time concertizing, the way to engage him was not with some erudite conversation about music – such things seemed to pain him – but to discuss the latest movies and who might get the big prizes. He would just light right up. That's not what the world expects from musicians who have been saddled with expectations of profundity.
Playing the right concerts at the right time – winning the Tchaikovsky Competition in Soviet Russia at the height of the Cold War – granted him evergreen fame that no other pianist had experienced. And he deserved it: his early recordings show a musician with an incredibly magnetic personality. (My favorite is not the Rachmaninoff/Tchaikovsky repertoire, but a Brahms Piano Concerto No. 2 recorded live in Moscow.) But that kind of stardom is always constricting and sometimes fatal. And by no means was Cliburn the only one to endure fame's fallout.
His generation of American pianists – Leon Fleisher, Gary Graffman, Byron Janis (all born in 1928), Eugene Istomin (1925-2003) and Ruth Slenczynska (b. 1925) – often seemed to prove the F. Scott Fitzgerald dictum that there are no "second acts" in American lives. None of them, for one reason or another, had consistent careers, though those who went down first are the ones who came back and thrived the longest.
Cliburn's career was effectively over in the late 1970s, when his playing had become not only slipshod but less emotionally committed. I attended two of his comeback performances – in 1989 with the Philadelphia Orchestra (his first concert in 11 years), and later at the start of a 1994 cross-country tour that began at the Hollywood Bowl.
In comeback No. 1, he played two concertos (Liszt and Tchaikovsky), though he began with The Star Spangled Banner (he was on such intimate terms with the national anthem that he referred to it as "The Banner") and then recited a poem, a simple one, that told you where he was really at – not at the Mann Center for the Performing Arts in Philadelphia, but at some ladies' musicale in Shreveport, Louisiana, where he was born.
For comeback No. 2, he hired an orchestra and booked dates working eastward across the US to Carnegie Hall, where he no doubt hoped to recapture former glory by playing Tchaikovsky's Piano Concerto No. 1 and Rachmaninoff's Piano Concerto No. 3. But at the Hollywood Bowl, after a curiously long intermission, there came the announcement: Mr. Cliburn was suffering from dizzy spells and wasn't up to playing the Rachmaninoff concerto, but he would play some works from his solo encore repertoire. At date after date, Cliburn fans wondered if he would pull together the Rachmaninoff for Carnegie Hall. He did not. Thereafter, he played sporadically on special occasions, but mainly tended the Van Cliburn International Piano Competition.
What happened? In one extended interview, he subscribed to the theory of absolute knowledge. Not only was the music he played classic, but so was his investigation of it. Once he hit the mark, he reached an interpretive end point and could only strive to keep hitting it at every subsequent performance.
His standards were high. Entire concertos lie in the RCA vaults unreleased (among them is a Schumann Piano Concerto with the Boston Symphony Orchestra under Charles Munch) because he wouldn't approve them.  But is it any wonder that Cliburn was burned out by middle age? No new information, it seemed, was entering his musical psyche. How could he not grow stagnant?
His contemporaries all hit mid-life crises. Some 15 years ago, I set about looking for a common cause and attempted to interview all of them. Janis, who suffers from severe arthritis but still plays, found the subject so uncomfortable during a phone interview that he hung up on me. Both Graffman and Fleisher, on the other hand, had injuries that robbed them of the use of their right arms and were eager to raise public awareness of the causes.
Slenczynska ended her child-prodigy career at age 15, but had a major second career, eventually settling into quiet academia, though still playing concerts.  Istomin performed the most steadily, but he developed such free, flexible tempos that conductors died many deaths trying to follow him. Among interviewees, he was the most articulate on the subject of mid-career crises.
Roughly speaking, this was his theory: His was the first generation of big-career American pianists, achieving great success at a young age. With recording contracts and radio broadcasts, microphones were everywhere, seeming to demand technical perfection not expected of previous generations. Their reputations constantly preceded them. There were no minor concerts.
Though many of these pianists were carrying the mantle of the great Artur Schnabel, that paragon of musical integrity who could also be a hugely inaccurate player, they were secretly trying to keep up with Vladimir Horowitz (Janis and Graffman actually studied with him). Horowitz's virtuosity was so unique that emulating it was bound to have all manner of side effects.
Yet each one had what even Fitzgerald might call second acts. Janis still has much to offer within a circumscribed repertoire; he has also written a number of Andrew Lloyd Webber-style musicals. After years of a serene domestic life while teaching at Southern Illinois University, Slenczynska lost her husband to lymphoma, moved to New York City and made regular visits to the Far East. Her last recording, made in 2009, was of Brahms's late-period solo miniatures; it was among her finest achievements and is as great as any in this repertoire's crowded discography.
Years of searching for cures finally paid off for Fleisher, who has returned to two-handed playing, though with intermittent success. (The Tokyo Quartet, for one, counts collaborations with Fleisher among its great moments.) In recent years, he premiered Paul Hindemith's previously lost Piano Concerto for the Left Hand – a major contribution to the repertoire.
After Graffman could no longer play with his right arm, he accepted his fate graciously, played left-hand repertoire and ran the Curtis Institute of Music, where he taught Lang Lang and Yuja Wang. Now, he still plays – between frequent trips to China where he collects art with a passion. But the most perfect matched set is Graffman himself with his wife Naomi. He may be the most contented human being I've ever met.
And Cliburn? His piano competition is certainly a second act. But there was evidence of more. Two years ago when I was in Fort Worth for some work relating to the event, Van himself came by, making eye contact with everybody, always with a pleasantry to put you at ease. All speeches received not only his compliments but a request for a printed copy that he could enjoy later.
Van Cliburn's natural sweetness was such that he no longer needed to play piano in order to be adored. That's a second act one could certainly aspire to.