When Audra McDonald called them an opera power couple on the recent PBS broadcast of the Richard Tucker Music Foundation Gala, I broke out laughing. Not at McDonald, and not because she was inaccurate: Soprano Ailyn Perez and tenor Stephen Costello fit the definition – both are headed toward the top of the opera profession if they aren't there already – but they don't fit the part, which was delightfully apparent in odd, peripheral moments on the telecast (still available for streaming here).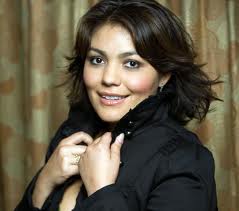 Aren't power couples supposed to be awe-inspiring? Bullet-proof? Untouchable?
Certainly, power couples are not sensible. They don't go to Sears for a new flat-screen TV – which is what Costello was doing when he found out that his wife had won this year's Tucker award. (He won it three years ago; they're the first married couple to do so.) Perez is the one who decided that Philadelphia taxes were too high considering how little time they had come to spend there – and thus moved to Chattanooga, Tennessee. Is that a power-couple thing to do?
Seeing them together, one could easily envision these two in a reality show. Each puzzles over the other's received ethnic tendencies. She ponders his Irish pessimism. (Yes, Costello is mostly Irish. And Ailyn, by the way, is pronounced "Eileen.") He doesn't get how her entire Mexican family can spend an evening together in a restaurant and then another 20 minutes in the parking lot saying goodbye, even though they're all headed for the same home. She's a Bikram yoga devotee; last time I checked, he was still fighting the idea of hiring a trainer. At the Met, he sometimes warns stagehands that he occasionally forgets to breathe, so if he passes out, just drag him offstage, give him a minute or two and he'll be singing again. (To my knowledge, this has never actually happened.)
Their talent developed along different trajectories. Perez arrived at Philadelphia's Academy of Vocal Arts having first gone to Indiana University. I heard her first public performance at AVA – a Reynaldo Hahn song – and I swear that the talent was all there, fully formed, with a warm, natural stage presence and a Victoria de los Angeles-ish voice. She only needed to bolster her coloratura technique, since it's the Violettas and Gildas that build great careers (even though she's a lyric soprano at heart).
Growing up in working-class Philadelphia, Costello started out playing trumpet, discovered his tenor voice and was accepted at the AVA. Since then, he has evolved by the year. He could barely navigate a stage until he was cast as Cassio in Otello at the 2008 Salzburg Festival. I sometimes feared for his vocal health until last year's tonsillectomy. Some critics still didn't love his high notes in last season's Met Anna Bolena, but I heard a turning point – so I was pleased not only to hear him singing better than ever at the Tucker gala, but also with a deeper sense of Italianate style.
If his career has gone a bit faster than hers, it's because tenors are in greater demand. Also, for all her exterior poise, Perez can sometimes be derailed by nerves. (That was occasionally detectable, manifested as pitch problems, at the Tucker gala, though by the Traviata ensemble with her husband she was on firm ground.)
They also sang the so-called Cherry Duet from L'Amico Fritz – and their dynamic is interesting. There's no doubt that they enjoy each other onstage, but there's never any sense that they absolutely need each other. They're sturdy individual talents on their own.
But wasn't it sweet when, at the end of the duet, savvy lip-readers could see him quietly saying "I love you" to his wife? Well, don't we all?