Kurt Sanderlin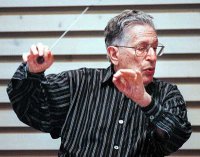 g (1912-2011) left us long after we thought he did.
The conductor who spent much of his life sealed off behind the Iron Curtain, whether in the former Soviet Union or East Germany, died Sept. 17 a few days before his 99th birthday without orchestras clamoring to capture his swan song or Japanese recording companies taping one Bruckner symphony after another hoping to get the deathbed performance. Sanderling certainly had late in life recognition with some good years conducting in England and, quite improbably, in Los Angeles. Recently re-issued recordings were mostly Bruckner, Mahler and Sibelius.
A less-fragmentary view of what had to be a 70-year career opened up a few weeks previous during a single-day visit to Dresden, where Sanderling made numerous recordings with the great Dresden Staatskapelle. During that East German period, his Das Lied von der Erde recording, hardly known in the U.S., has achieved enough classic status that it was accorded a recent reissue on custom-made vinyl, and in all its fearlessly craggy grandeur, certainly deserves it. His grand old man years with big-symphony repertoire were all the more interesting for not being blessed by the usual Olympian serenity. Sanderling projected the troubled visions of Mahler and Bruckner with unflinching grittiness.
I pretty much knew that before I put on my running shoes on that brilliantly sunny afternoon in Dresden when I went running along the Elbe. If there's a wrong side of the river, I found it in the funky neighborhoods full of working-class grocery stores, graffiti painted streets and shops selling all manner of smoking paraphernalia as well as – guess what? – used LP records. In one such shop, I came out with Sanderling conducting Haydn, prompted by a perverse curiosity as to what a great musical made of these great symphonies in the generations before historically-informed performances. Works included Symphonies 82 and 86 with the Berliner Sinfonie Orchester on Eterna plus 104 and 45 with the Dresden Staatskapelle on Deutsche Grammophon. Listening more dispassionately than elegaically (I mistakenly thought Sanderling had died years ago), I realized these are among the most boldly re-imagined Haydn performances on disc.
The weight of the world unfolds in the slow introductions to the first movements, but not in ways that become lugubrious. Symphony No. 104 begins with a combination of grandeur and tragedy, with a sonority that's certainly Haydnesque but has that Shostakovichian suggestion that such grandeur has dangerous outcomes. Having arrived in Moscow in 1936, Sanderling certainly saw such outcomes first hand. The first movement is a shade slower than another pre-historically-informed-performance Haydn conductor, Eugen Jochum, but move with a more confident gait, so much that the music seems unstoppable, bordering on implacable. From there, harmonic relationships and bursts of rhythmic energy that I haven't heard anywhere else surface repeatedly. This usually sunny music also has dark clouds on the horizon, giving the symphony a distinctive texture that never feel imposed upon the music.
I shouldn't have been surprised. Another acquisition from this trip was Shostakovich's Symphony No. 15 with the Berlin Philharmonic that deftly walks fine lines between triviality and profundity, irony and steely directness – while going to extremes in all directions. For years, I've owned and enjoyed a Russian-language LP of The Marriage of Figaro conducted by Sanderling in 1948 starring Natasha Rozhdestvenskaya (mother of conductor Gennady Rozdestvensky). Mitsuko Uchida, who champioined the aging Sanderling so much that she recorded the Beethoven piano concertos with him, coveted the disc, and though I made her a taped copy, I resisted the temptation to just give the LP set to her. Returning to it tonight, the set remained a thoroughly satisfying, dramatically committed, but nimble, stylish Mozartean performance that requires no handicaps for its age or for being sung in Russian.  It's among the most elegant Figaro performances on record.
So personal is Sanderling's Mozart and Haydn, so laden with subtext is this music in his hands, his performances have a monologue quality. He's speaking to us through the music. Mahler and Shostakovich performances often seem that way whether the conductors are young or old. Rarely is such subtext heard in classical-era repertoire. No doubt Sanderling was one of the few in that time and place with such musical sympathies. Yevgeny Mravinsky got away with classical-era repertoire. Mstislav Rostropovich, as a conductor, succeeded in making it dry and brittle. Those conductors make a good case for the kind of quality control that comes with historically-informed performance. But Sanderling's deep rapport with the music renders the more factual aspects of performance practice unnecessary – and did so as a voice in the wilderness.That alone qualifies him for classical music sainthood.