In a story that seems too odd to be true, a Barcelona comedy theater company has experimented with a 'pay per laugh' scheme, where entry is free, and each laugh costs you money. Each seat has a tablet computer, with facial recognition software, tracking and charging for every guffaw. You settle up the tab on the way out, or through a mobile app.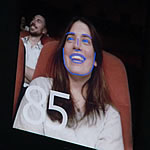 Entry to the performance is free, but each laugh will cost you 0.30 Euros ($0.38), to a maximum of 24 Euros ($30.43). So, if you're good at a poker face, you could enjoy (or pretend not to enjoy) an evening of comedic performance for nothing. If you laugh in bulk (more than 80 times), all the additional laughs are on the house. The theater claims a resulting 6 percent increase in average ticket price.
It's hard to say if this is more than a clever publicity experiment, or a long-term strategy to match payment to actual audience experience. But either way, it's creepy and compelling at the same time.
With the increase of body-sensing wearable computers (pulse, body temperature, and other such indicators), I'm imagining an entire range of pay-for-personal-impact cultural experiences. And I'm not sure I like that idea.
via The Verge.
Pay per Laugh | TeatreNeu from edududu on Vimeo.