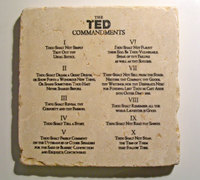 I've often expressed my admiration for the TED conference keynotes — 20-minute nuggets of insight, humor, provocation, and revelation by really smart and engaging people. A perfect fit for my bus ride home.
So, I'm thrilled that the ground rules behind those great presentations are available on-line. Tim Longhurst (via Garr Reynolds) offers a transcription of the "TED Commandments'' that arrive on a stone tablet to those invited to speak (no, really, a stone tablet). Not to say that the rules make the speakers great, but they certainly help frame a positive space for greatness.
Worth remembering for any public presentation or conference session:
Thou Shalt Not Simply Trot Out thy Usual Shtick.
Thou Shalt Dream a Great Dream, or Show Forth a Wondrous New Thing, Or Share Something Thou Hast Never Shared Before.
Thou Shalt Reveal thy Curiosity and Thy Passion.
Thou Shalt Tell a Story.
Thou Shalt Freely Comment on the Utterances of Other Speakers for the Sake of Blessed Connection and Exquisite Controversy.
Thou Shalt Not Flaunt thine Ego. Be Thou Vulnerable. Speak of thy Failure as well as thy Success.
Thou Shalt Not Sell from the Stage: Neither thy Company, thy Goods, thy Writings, nor thy Desperate need for Funding; Lest Thou be Cast Aside into Outer Darkness.
Thou Shalt Remember all the while: Laughter is Good.
Thou Shalt Not Read thy Speech.
Thou Shalt Not Steal the Time of Them that Follow Thee.