Management professor Henry Mintzberg has a knack for describing complex things with calm and clarity. His writing on what managers are and do seems so obvious that you can miss the point that it's completely contrary to most other management research. And while his work is accessible to anyone, it's also founded in careful observation, making it unique among popular management literature, as well.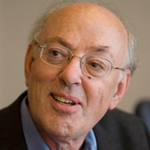 Because I enjoy his management insights, I was thrilled to find this video in which he describes the three sectors of enterprise — private, public, and social (what others might call not-for-profit or independent) — with particular disdain for those who describe only one:
Capitalism is not the solution, the answer. It's one way of raising capital and encouraging private investment. But to refer to the whole economy as "capitalism" is nuts. I think we need to recognize that there are different sectors in society that have different purposes.
When asked to describe the purpose of the social or not-for-profit sector, he offers this bit of brilliance:
At its limit, business is crass. And at its limit, government is crude. And for lots of things, we don't want to choose between crude and crass.
I rather adore the idea of exploring organized action between crude and crass.