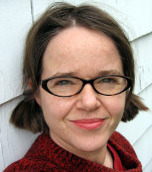 From the Seattle Weekly:
On the insistence of top security specialists at the FBI, she is, as they put it, "going ghost": moving, changing her name, and essentially wiping away her identity. She will no longer be publishing cartoons in our paper or in City Arts magazine, where she has been a regular contributor. She is, in effect, being put into a witness-protection program–except, as she notes, without the government picking up the tab. It's all because of the appalling fatwa issued against her this summer, following her infamous "Everybody Draw Mohammed Day" cartoon. (more)
A couple of points:
One of Salman Rushdie's prime targets in Satanic Verses, indeed, the prime target, was the government in England during the Thatcher years. When Iran issued its famous fatawa on him because of its misunderstanding of a dream sequence in the book, the much-maligned-by-Rushdie English government stepped up with round-the-clock protection. Apparently, Molly Norris, who never maligned anyone, is not entitled to her government's support. As an American, she's on her own.
She never drew Mohammad. She drew a cup of coffee, a domino, a box of pasta, a spool of thread, a purse and a cherry, all claiming to be the prophet. (Image here.) Nor did she create the website inspired by her gentle cartoon, "Everybody Draw Mohammed Day,"drawn by her to support Trey Parker and Matt Stone after the South Park brush with fanatics.
The Weekly, her former occasional employer, called her cartoon "infamous." A standard definition of the word is "having a bad name as being the place where an odious crime was
committed, or as being associated with something detestable; hence,
unlucky; perilous; dangerous."
I'll go with dangerous. Clearly her cartoon has become dangerous to her.
Britain made it a precondition of restoring diplomatic relations with Iran that it discontinue its efforts to kill Rushdie. On Sept. 24, 1998, Iran's Mohammad Khatami said his government would "neither support nor hinder assassination operations on Rushdie."
Norris has said she doesn't want anyone to do anything, but I can think of one thing. Let your representatives know you want the FBI to fund Norris in hiding. And while I realize that moderate Muslims have their hands full these days, it would be wonderful if a few of them could try to explain this misunderstanding to those who are so easily and dangerously offended, so that Norris can come home and be herself again.