main: January 2007 Archives
UPDATE: Project Installed August 17, 2007
Webcams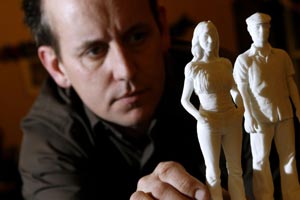 No place can bat a thousand, but Newbiggin by the Sea in northeast England is really dipping low with the proposed "Couple" by artist Sean Henry. It's too bad after successes in the region with Anthony Gormley's Angel of the North in Gateshead, Juan Munoz' Conversation Piece in South Shields and Poetry by WN Herbert in Darlington West Park of Tees Valley.
Sean Henry seems to be competing with American J. Seward Johnson for artistic achievement in literal banality without the conceptual redemption of Jeff Koons or the intimate ugliness of Duane Hansen. Henry and Johnson sculpt human beings in a recognizable moment such as daydreaming on your back or stopped in thought. They are the "Lifetime" and "Hallmark" channels of public art, providing a non-poetic reminder of us. We just watch ourselves without a thought in our head. Time passes with a little smile and that apparently is better to some people than no smile at all.
My last statement is too harsh. Beyond the little smile, what people appreciate is that someone with power - museum, government, corporation - left the artworld and purchased something for THEM. Who doesn't like to be appreciated?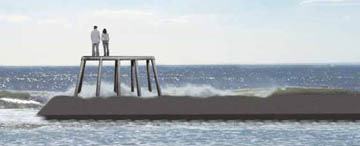 "Couple" is what it says: a middle class, middle age man and woman. The fifteen-foot tall bronze sculptures will face the sea and sunrise on a breakwater in the North Sea. At high tide, the couple will appear to be standing on water.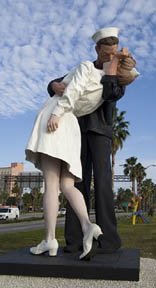 The people of Newbiggin and potential tourists will be reminded that they like to watch the sunrise on sea. That's it. Nothing more.
The sculpture does not capture the light or the sea. The sculpture does not enhance my knowledge of the place. The sculpture tells me nothing about the uniqueness of the people of Newbiggin.
The sculpture is human debris claiming more of the earth at a time when we need to claim less.
As a note on Seward Johnson. According to the Season of Sculpture in Sarasota website, a 25 foot tall bronze sculpture of the famous kissing couple at the end of WWII costs $1,140,000. Why is banality always so expensive?
What we all know as contemporary public art started on the west coast of the USA in the early 1970s. But in the very southeast of Florida in Miami-Dade County and Broward County public art slithered forward too. In 2006, Broward County celebrated with a 30th year celebration that culminated 25 days late in January 2007.
Yes for 30 years, the city and county governments of the USA have birthed a new art form. These quiet art advocates deserve praise for a miracle. Just by consistent programming with a passion to protect artistic exploration and to serve the public in new ways, a collaboration of administrator and artist has sparked the most invention since the critic and art interaction of the 1960s.
Yes a lot of the art is entirely predictable and safe, but imagine a forced tour of every, EVERY museum. No picking and choosing your favorites. You would be struck with an even more droning boredom.
Or visit every new building constructed in your county in the last three years. Or paste all the walls of your home with advertising photography from fashion magazines. Each photographer is an artist, they say. Your local wallpaper supplier might seem more unique.
Like architecture and fashion, we now have enough public art after 30 years to start to pick and choose. We don't know exactly what public art is, but we know that is it no longer museum art in public places. This blog will pick and choose and learn.
Unfortunately, the laser and L.E.D. new public work by Dan Corson in downtown Fort Lauderdale just barely worked. After Corson and one of those quiet administrators - Claire Garrett - get the electronic "waves of grass" (perhaps grains?) working, I can report back.
And last, but not least, Broward County Cultural Affairs manager, Mary Becht, has been there from the beginning. And with her came at least two magnificent works by Patricia Leighton and Jody Pinto.