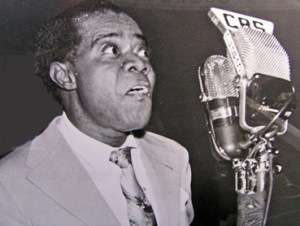 I wrote a "Sightings" column last November about Desert Island Discs, the long-running BBC radio series whose guests are invited to choose and talk about the records that they'd take with them were they to be marooned on an imaginary island. In the course of researching my column, I found out that the BBC didn't possess an archival tape of Louis Armstrong's 1968 appearance on Desert Island Discs, which was presumed to be lost forever.
According to Desert Island Discs: 70 Years of Castaways, Sean Magee's 2012 history of the program:
One true legend who had to be omitted from [the book] on purely practical grounds is Louis Armstrong, cast away by Roy Plomley [the original host of Desert Island Discs] in 1968. There is no audio of their interview, and the surviving transcript is simply too patchy to enable any part of it to be reproduced.
This passage caught my eye at once, for I knew that Armstrong's own reel-to-reel tape of the show survived in the Louis Armstrong Collection. Not only had I listened to the tape in 2006, but I subsequently described the broadcast in some detail and quoted from it in Pops, my 2009 biography of Armstrong.
Here's what I wrote in Pops:
He picked three of his own sides, "Blueberry Hill," "Mack the Knife," and "What a Wonderful World," plus the version of "Bess, You Is My Woman Now" that he had recorded with Ella Fitzgerald" in 1957 and a trio of 78s by Guy Lombardo, Jack Teagarden, and "my man Bobby Hackett." Yet he also made room for Barbra Streisand's "People," praising her as "Madame Streisand…she's tryin' to outsing everybody this year!" At sixty-seven his ears were still wide open.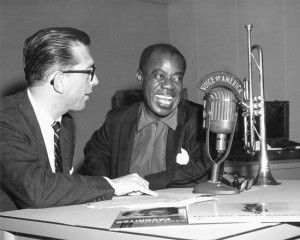 I sent an e-mail to the Desert Island Discs website telling them that the tape existed, and within a few days they wrote back to ask how they could get a copy. I directed them to Ricky Riccardi, my fellow Armstrong biographer, who works at the Armstrong Archive. Ricky duly sent the BBC a copy of the tape, and on Saturday they uploaded it to the Desert Island Discs website for everyone in the world to hear and enjoy. I am exceedingly proud to have made that possible.
To listen to the show, go here.
To read the Guardian's story about the discovery of the tape, go here. This is, by the way, the only news story I've seen to date that credits me with the discovery. (I was more than a little bit surprised that the BBC itself neglected to do so.)
UPDATE: Armstrong scholar Ricky Riccardi blogs in illuminating detail on this broadcast.