« Just because: Sir Henry Wood records Vaughan Williams | Main | Some shall have prizes »
May 5, 2014
Same old same old
When I was a boy, I lived in an old-fashioned small-town neighborhood, the kind where your house is close enough to the school you attend that you can see the playground from your front door. From then on, though, I was forced to make do with an ever-changing string of dorm rooms and anonymous apartments. Only once did I stay in the same place long enough to feel that I had a neighborhood again. That was in Manhattan, where I spent two decades on the Upper West Side. I'd never expected to feel at home in an urban environment, and it took me by surprise when I realized that I'd come to feel much the same way about my part of New York City that I had about my part of Smalltown, U.S.A.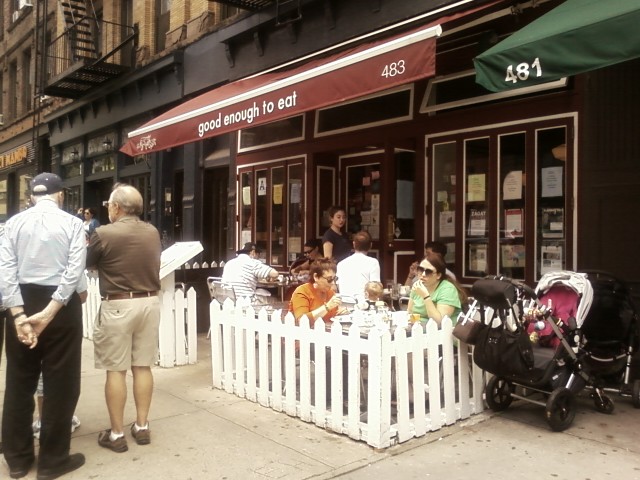 Throughout most of that time, I lived a block and a half away from Good Enough to Eat, the Upper West Side's best-loved comfort-food emporium, where you could always be sure of getting a tasty, unpretentious, and wholly satisfying meal. In due course it evolved willy-nilly into my hangout, the only one I've ever had. Never before--or since--has there been a restaurant where I was recognized by the staff whenever I walked through the door. I've taken just about everyone I know to Good Enough to Eat at one time or another, and tried just about everything on the menu, always with great pleasure. I even ate a solitary Thanksgiving dinner there a month before I met Mrs. T, and felt completely at ease (if a bit lonely) doing so.

After Mrs. T and I moved to our present home in upper Manhattan two years ago, I was flummoxed by the fact that I could no longer pop around the corner to Good Enough to Eat. What's more, our new neighborhood, love it though we do, is too far from the center of town for me to reasonably expect friends and colleagues to run up to my place for a quick bite. Nor did I have any reason to visit the old neighborhood other than sporadically, there being no theaters in that part of town. I'd lost my hangout, and it felt as though I'd broken a thumb.

Flash forward to 2013. Good Enough to Eat lost its lease that year, and for a time it looked as though my favorite restaurant might be forced to close its doors forever. Instead it moved to a larger space on Columbus Avenue just above 85th Street. I made a special point of going to the old place for lunch one last time, the day before the big move. I got a little weepy when I called for the check and was told that Carrie Levin, the boss, would be picking up my tab.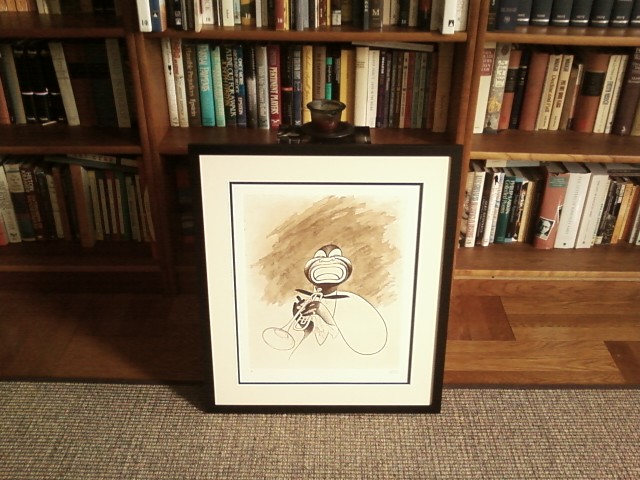 That was in June, and I've been moving at a dead run ever since. What with the publication of my latest book, the premiere of my third opera, a two-month stint in Florida, and the off-Broadway transfer of Satchmo at the Waldorf, I haven't had time or occasion to set foot in my old neighborhood. So when I dropped our new Al Hirschfeld lithograph off at Amsterdam Art Gallery to be framed, I resolved that I'd have lunch at my former hangout on the day that I picked it up.
I kept that promise last Thursday. As soon as I collected the newly framed Hirschfeld, I walked three blocks north and one block west to Good Enough to Eat. Yes, the new place is bigger, but it still has the same homey decor and the same comforting menu. I ordered one of my trusty standbys, the ham-and-scrambled-egg sandwich, and soon discovered that it, too, was gloriously unchanged.
I grinned as I cleaned my plate, reassured to know that even in New York, a place where roiling chaos too often seems to be the only constant, you can still count on getting a good meal at Good Enough. I'm not even slightly embarrassed to admit how much that means to me.
Posted May 5, 2014 11:00 AM
Tell A Friend