« Almanac: Ivy Compton-Burnett on plots | Main | Bulletproof on Broadway »
April 11, 2014
TCM at 20
In today's Wall Street Journal "Sightings" column I take note of an important cultural anniversary. Here's an excerpt.
* * *
Twenty years ago next Monday, Turner Classic Movies went on the air, and the lives of film buffs were instantly improved almost beyond recognition. TCM is a basic cable channel owned by the Turner Broadcasting System that shows old movies, most of them released prior to 1970, around the clock. Some are familiar, others obscure, but all are uncut, uncolorized, uninterrupted by commercials and otherwise unaltered. No other enterprise has done more to make such films widely accessible to the general public....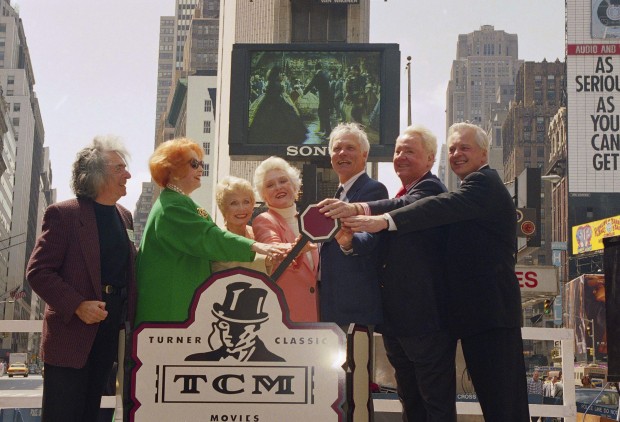 I doubt I'm the only viewer who routinely flicks through the coming month's fare and earmarks a half-dozen films at a time for future recording. I am, in short, an ardent fan--but I wonder what the future holds in store for the channel that made Robert Osborne, TCM's host-in-chief, a star. Will it continue to prosper? Or is TCM's business model flawed in ways that could lead to its decline and fall?
To answer these questions, it's necessary to reflect on the way in which TCM transformed the culture of film in America. By 1994 the VCR had made it possible for most Americans to view movies in their living rooms, but few video stores carried a wide-ranging inventory of older films, nor were they shown other than sporadically on television. If you wanted to see or study the great films of the past, you usually had to buy your own copies. Then TCM came along and changed everything, quickly became indispensable to movie lovers everywhere.
That's still true. Most of the old movies that I watch in any given week come from TCM. But the rise of on-demand TV is changing the viewing habits of film buffs. Why wait for TCM to show "Grand Hotel" next Thursday when Amazon Instant Video will stream it to your iPad right now for $1.99?...
* * *
Read the whole thing here.
Posted April 11, 2014 10:00 AM
Tell A Friend