« Lookback: some thoughts on the answering machine | Main | Almanac: Shakespeare on music »
April 8, 2014
Mack the Butter Knife
Because of the crush of New York openings this month, The Wall Street Journal has given me an extra drama column today in which to review the Atlantic Theater Company's revival of The Threepenny Opera and the New York premiere of Will Eno's The Realistic Joneses. Here's an excerpt.
* * *
Anybody who feels like sticking it to capitalism couldn't do better than to revive "The Threepenny Opera," the 1928 Bertolt Brecht-Kurt Weill masterpiece whose murderous anti-hero justifies his criminal career by asking this pointed question: "What is the robbing of a bank compared to the founding of a bank?" By coupling such sentiments with a jaunty, sharp-cornered score that is equally indebted to early jazz and modern classical music, Brecht and Weill pulled the pin on a theatrical time bomb that has been going off at regular intervals ever since. Marc Blitzstein's English-language adaptation, which opened Off Broadway in 1954, ran there for six years, and "The Threepenny Opera" has since been mounted three times on Broadway. No pre-"Oklahoma!" musical has had a more enduring stage life--proof that American theatergoers like nothing better than to be told what greedy bastards they are.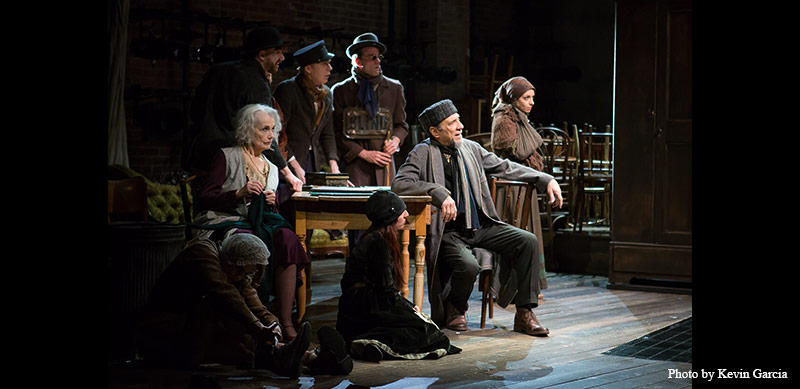 The economy being the way it is, I suppose it was high time for somebody to tell once more the tale of Mack the Knife and his crooked cohorts. Hence the Atlantic Theater Company's Off-Broadway revival of Blitzstein's pungently singable version, directed and choreographed by Martha Clarke. But Ms. Clarke, who came to fame as one of the founders of Pilobolus Dance Theatre and has since specialized in dance-driven performance-art works, is less at home with words. Not only do the dialogue scenes lack bite, but the staging is unfocused (too much stylized group movement, not enough here's-who's-talking clarity).
While I've never heard a "Threepenny" production that was better sung or played, the rough edges of Weill's score have been blunted in the process. It doesn't help that the cast is for the most part both smooth-faced and pretty-voiced...
Will Eno is the male Sarah Ruhl, a postmodern semi-surrealist who specializes in coyly metatheatrical comedies. Such flyweight folk cannot but prosper in the age of Irony Lite, and "The Realistic Joneses," which has moved to Broadway after a run at the Yale Repertory Theater, is surely destined for similar success there and elsewhere.
The cast consists of two married small-town couples, both named Jones, who live next door to one another. Bob and Jennifer (Tracy Letts and Toni Collette) are older and sadder, John and Pony (Michael C. Hall and Marisa Tomei) younger and seemingly more frivolous, but they're all stuck in the same leaky boat. Bob and John, it turns out, are both afflicted with an "irreversible and degenerative nerve disease" called Harriman Leavey Syndrome (yes, it's fictional) that is gradually gnawing away at their language skills and motor functions, and Jennifer and Pony are finding it increasingly difficult to cope with their slow but inexorable disintegration.
That's a familiar but nonetheless promising premise for a black comedy. Unfortunately, Mr. Eno, as is his wont, has swathed it in cute repartee...
* * *
Read the whole thing here.
Lotte Lenya sings "Pirate Jenny" in G.W. Pabst's 1931 film version of The Threepenny Opera:
Posted April 8, 2014 11:30 AM
Tell A Friend