« Almanac: Paul Hindemith on teaching | Main | Almanac: Max Beerbohm on caricature »
April 18, 2014
All Hart
In today's Wall Street Journal drama column, I review three New York openings, Act One, Of Mice and Men, and The Library. Here's an excerpt.
* * *
Moss Hart's "Act One" is the best Broadway memoir ever written, the stirring story of how a dirt-poor Bronx boy who grew up in a slum became a name-above-the-title playwright. The second half, which tells how the then-unknown Hart contrived to collaborate with George S. Kaufman, the Neil Simon of his day, on a 1930 comedy called "Once in a Lifetime" that made him rich and famous, is the stuff theatrical dreams are made of. Countless stage-struck youngsters have read it and resolved, however fleetingly, to do as he did.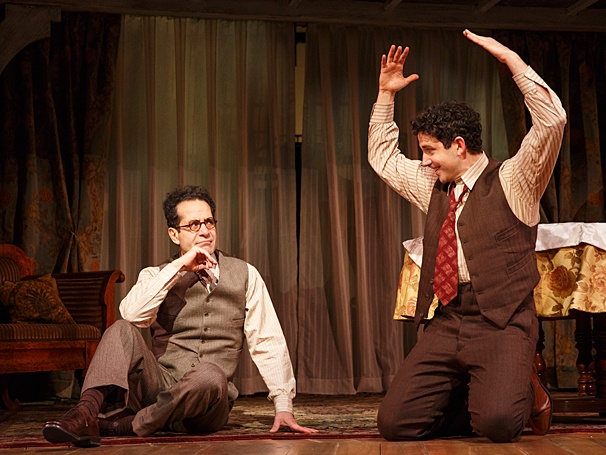 It's surprising that none of them ever tried to turn "Act One" into a play, but the failure of Dore Schary's lead-footed 1963 film version doubtless explains why so beloved a book took so long to find its way to the stage. Now James Lapine, who is to Stephen Sondheim what Hart was to Kaufman, has shouldered the task, both as writer and director. Unlike Schary, though, he's chosen to adapt all of "Act One," starting not with "Once in a Lifetime" but with Hart's sad childhood. The result is a thrillingly well-staged play that runs for two hours and 40 minutes but feels much shorter. Not only is "Act One" light on its theatrical feet, but it has the open-hearted impact of a melodrama--one that has the advantage of being true.
Part of what makes "Act One" so potent is that Mr. Lapine disdains all irony in describing Hart's rise to fame. His was an old-fashioned American-dream-come-true tale, and it doesn't embarrass Mr. Lapine in the least to dish it up on a pageant-like scale reminiscent of the spectacular stage version of "Nicholas Nickleby." (It would also have made a great musical.) "Act One" is played out on a triple-decker revolving stage designed by Beowulf Boritt that catapults the 22 members of the cast from the Hart family's tenement apartment to Kaufman's Manhattan townhouse with cinematic speed....
It isn't surprising that "Of Mice and Men" works better on the stage than the page. John Steinbeck always envisioned his dialogue-intensive book as (in his phrase) "a play that can be read or a novel that can be played," and the fable-like tragedy of George (James Franco), an itinerant California farm worker, and Lennie (Chris O'Dowd), the simple-minded, pitifully innocent near-giant with whom he travels from job to job, gains immeasurably from theatrical presentation. The trick is to do it simply, and Anna D. Shapiro's staging leaves nothing to be desired in that department. Todd Rosenthal's windblown set is as plain as a tumbleweed, and the supporting cast, led by the matchless Jim Norton (he plays Candy, the aging field hand whose dog gets shot), leads us to the inescapable disaster with hard authenticity.
If only Mr. Franco, one of Hollywood's top teen heart-throbs, had had the modesty to realize that Broadway is the wrong place to make your professional stage debut! While he doesn't embarrass himself, his acting is flat and unmodulated by comparison with that of his infinitely more accomplished colleagues...
Steven Soderbergh, who claims to have given up making movies, has now directed an Off-Broadway play by one of his cinematic collaborators. Scott Z. Burns' "The Library" is a fictional docudrama about the aftermath of a high-school shooting. The premise is juicy: One of the survivors (Chloë Grace Moretz) is accused by another survivor (Daryl Sabara) of having told the shooter where several of her fellow students were hiding. And Mr. Burns doesn't fall into the trap of preaching a ripped-from-the-headlines sermon: While the last scene does get a bit portentous, "The Library" steers clear of banal point-making. But he never breaks through the smooth quasi-factual surface of the desperate situations that he portrays, and so "The Library," for all its evident seriousness of purpose, feels more like an unusually well-written "Law & Order" episode than a full-fledged play.
Though he has next to no stage experience, Mr. Soderbergh already has a firm grasp of the demands of his new medium...
* * *
Read the whole thing here.
The theatrical trailer for the 1963 film version of Act One:
Posted April 18, 2014 11:00 AM
Tell A Friend