« Almanac: Lorraine Hansberry on loneliness | Main | Almanac: Hermann Hesse on classical music »
April 4, 2014
A blazing tale of hurt and hope
In today's Wall Street Journal I review the new Broadway revival of A Raisin in the Sun and the Broadway transfer of If/Then. Here's an excerpt.
* * *
Walter Lee Younger, the central character in Lorraine Hansberry's "A Raisin in the Sun," is described in the stage directions as "a lean, intense young man in his middle thirties." When Sidney Poitier created the role in 1959, he was 32 years old. Denzel Washington, the star of the play's second Broadway revival, is 59.
End of story? No--though it might easily have been.
First, the indisputably good news: "A Raisin in the Sun" is one of the best American dramas of the 20th century, a perfectly composed, profoundly moving history play about a black family in the Eisenhower era whose frustrated members, trapped in a dingy Chicago tenement, long for a better life. This production is directed by Kenny Leon, who also staged the 2010 Broadway revival of August Wilson's "Fences" in which Mr. Washington previously starred. Mr. Leon is an inspired craftsman who creates the illusion that he's merely staying out of the way of a good script. What he does, of course, isn't nearly that simple, but you'll never catch yourself noticing this or that clever touch. All that's visible is the finished product, a piece of storytelling as plain and true and beautiful as a well-laid brick wall.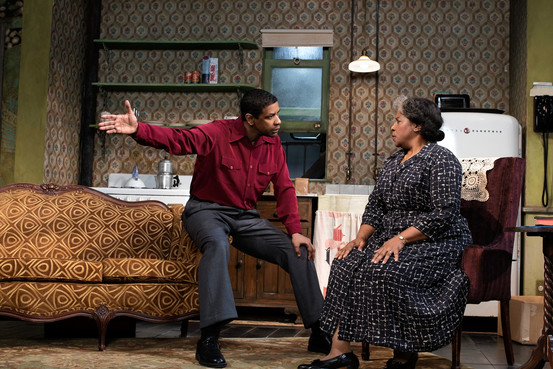 Mr. Leon is blessed to be working with LaTanya Richardson Jackson, who plays Lena, Walter Lee's mother, with a harsh-tongued bluntness that conceals infinite depths of fierce love. Sophie Okonedo and Anika Noni Rose match her excellence as Ruth and Beneatha, Walter Lee's wife and younger sister, and the smaller parts are played with like authority....
Mr. Washington, though he looks good, also looks his years, so much so that the script has been quietly and pointlessly altered to make him say he's 40, not 35....
It is the strongest possible tribute to the integrity of Mr. Leon's staging that it rises above this obvious falsity. No, you won't quite believe what you're seeing, but you won't care, either. This is still a great production of a great play...
"If/Then" is a new Broadway musical by Brian Yorkey (who wrote the book and lyrics) and Tom Kitt (who wrote the music). Their last show, "Next to Normal," which bagged three Tonys and a Pulitzer Prize, was about a suburban mom who suffers from a bad case of bipolar disorder. In "If/Then," Idina Menzel plays Elizabeth, a 38-year-old divorcée who moves back to New York after 12 years in Phoenix, then chooses between two incompatible directions in life--at which point the results of both of her possible choices are played out simultaneously onstage.
If, like me, you found "Next to Normal" to be an unpleasingly prettified portrayal of manic depression, stay away from "If/Then," in which the authors fawn over the travails of New York's verbal class and explicitly invite the audience to sneer at those benighted rubes who feed the family at Olive Garden. This is the kind of show whose self-satisfied authors take it for granted that its viewers will chortle at the mere mention of Phoenix....
* * *
Read the whole thing here.
A scene from the 1961 film version of A Raisin in the Sun, starring Sidney Poitier and Ruby Dee, both of whom created their roles in the original 1959 Broadway production:
Posted April 4, 2014 10:00 AM
Tell A Friend