« Almanac: W.H. Auden on evil | Main | Fathers know best »
March 28, 2014
The man who did too much
Constant Lambert, about whom I've written more than once in this space and elsewhere, is the subject of an important new primary-source biography, which is in turn the subject of my "Sightings" column in today's Wall Street Journal. Here's an excerpt.
* * *
If you've read "A Dance to the Music of Time," Anthony Powell's cycle of 12 novels about England in the 20th century, you'll likely recognize the name of Hugh Moreland. A hugely talented, deeply troubled conductor-composer-wit who "gravitated from one hopeless love affair to another," Moreland is one of Powell's most indelibly drawn characters, so much so that it's no surprise to learn that he was drawn from life. He was based on Constant Lambert, one of Powell's closest friends, an even more talented conductor-composer-wit who died in 1951, two days before his 46th birthday, his health shattered by diabetes and drink. Unlike his fictional counterpart, who never quite manages to break into the top tier of anything, Lambert was a major figure in English musical life throughout the '30s and '40s. Alas, his reputation faded quickly after his death, and today he is mainly remembered by scholars and specialists. Indeed, more people now know him as the model for Moreland than for anything he did, said or wrote in real life.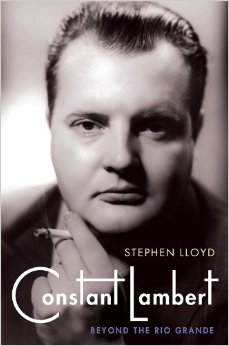 It's inordinately difficult to resuscitate such lost souls, but Stephen Lloyd gives it his very best shot in "Constant Lambert: Beyond the Rio Grande," a 622-page biography published this month by Boydell Press that's as close to definitive as a biography can be. Mr. Lloyd gets absolutely everything right, including the gossip (among other exotic things, Lambert was a longtime lover of Dame Margot Fonteyn, the celebrated English ballerina) and the dirty limericks (he wrote some of the funniest ones ever, none of them printable here). Far more important, Mr. Lloyd makes a compelling case for Lambert's continuing significance. He was a powerfully individual composer, an amazingly talented conductor and one of the most quotable critics ever to put pen to paper.
So why haven't you heard of him?
In addition to dying too young to consolidate his reputation, Lambert complicated posterity's job by deliberately choosing not to specialize in a single line of creative endeavor. Even within his chosen fields, his interests ranged so widely and unpredictably that it was all but impossible to pin him down....
* * *
Read the whole thing here.
To read the complete text of Lambert's Music Ho! on line, go here.
André Previn leads the London Madrigal Singers and the London Symphony in a 1973 performance of Lambert's The Rio Grande. The piano soloist is Cristina Ortiz:
Posted March 28, 2014 10:00 AM
Tell A Friend