« Almanac: Thoreau on politics | Main | Yo, Broadway, it's Rocky! »
March 14, 2014
Printing the legend
In today's Wall Street Journal "Sightings" column I write about the "original-cast" albums of two modern masterpieces, Edward Albee's Who's Afraid of Virginia Woolf? and Benjamin Britten's War Requiem. Here's an excerpt.
* * *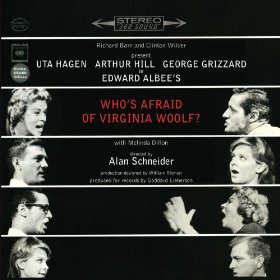 Four months after "Virginia Woolf" opened, the original cast made a studio recording of the play. Columbia Records released it as a pricey four-LP set that went out of print a few later and was never reissued--until now. Masterworks Broadway has finally released "Virginia Woolf," both as a digital download and as a two-CD set. What's more, it's even more of a rarity than you might suppose. The "Virginia Woolf" album is still, so far as I know, the only uncut commercial sound recording of a major 20th-century English-language play to have been made by the entire original cast. (Original-cast recordings of Broadway musicals are commonplace, but they're usually heavily abridged.)
And what's it like? Astonishing. All four actors plunge into their roles with caustic, unsparing ferocity. Naturally it would have been wonderful if their performances had been filmed, but you don't have to see Ms. Hagen and Mr. Hill clawing drunkenly at one another to be staggered by their black desperation. Merely to hear them is to know how great they were.
Great...but not definitive.
I've seen many stagings of "Virginia Woolf" over the years, some of which, like the 50th-anniversary Broadway revival, were at least as impressive as this one. And since Mr. Albee didn't direct the original production, this particular version, priceless and illuminating though it is, cannot claim to be anything other than one of many possible ways to perform "Who's Afraid of Virginia Woolf?"...
The same thing is true of "creator recordings," classical-music recordings made by some or all of the artists who gave the premiere of a piece. It even holds true when the composer is also one of the performers....
* * *
Read the whole thing here.
An excerpt from the original-cast recording of Virginia Woolf:
Posted March 14, 2014 10:00 AM
Tell A Friend