« More than a rag | Main | Almanac: Mark Twain on laughter »
February 14, 2014
Out of the depths
In today's Wall Street Journal I review a rare American revival by Orlando Shakespeare Theater of The Life and Adventures of Nicholas Nickleby. Here's an excerpt.
* * *
Before "Angels in America," there was "The Life and Adventures of Nicholas Nickleby." The Royal Shakespeare Company's eight-and-a-half-hour-long stage version of Charles Dickens' 1839 novel, directed by Trevor Nunn and John Caird, transferred to Broadway from London's West End in 1981, snapped up a best-play Tony and created in a single stroke the modern vogue for the marathon multi-part shows that have come to be known as "event theater."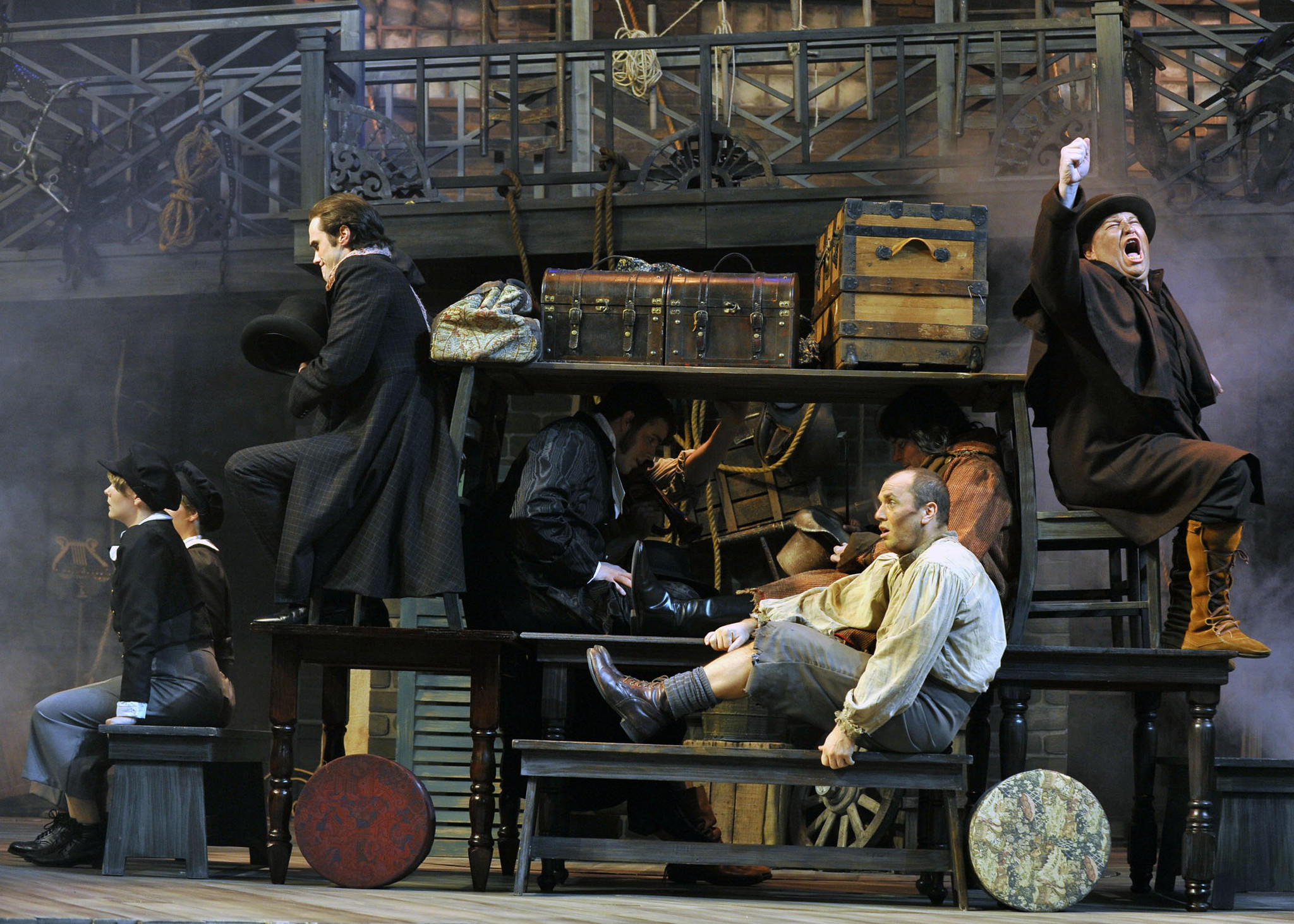 Not surprisingly, revivals of "Nicholas Nickleby," which calls for 39 actors, are rare. Accordingly, David Edgar, who wrote the script, prepared an abridged version in 2006 that has since been mounted three times on this side of the Atlantic. Now Orlando Shakespeare Theater has taken it on, with results that are both spectacular and satisfying. I didn't see the original production, which by all accounts was a miracle of creative stagecraft, but it's hard to imagine that it was more moving--or fun--than Orlando Shakespeare's six-and-a-half-hour version, directed by Jim Helsinger and Christopher Niess, whose 27 actors (who play 150-odd characters) are deployed with infinite resourcefulness....
For Dickens, characterization was caricature: Nicholas is the Good Guy, Ralph the Bad Guy, and everybody else is an elaborately drawn cartoon. That's what makes his novels so hard for many contemporary readers to get through--and what makes them so effective when adapted for the stage or the screen. Instead of wading through page-long thickets of broad-brush description, you watch talented actors portraying the characters, which frees you to focus on the plot and dialogue.
That's where Orlando Shakespeare's "Nicholas Nickleby" shines most brightly: The cast is consistently superior, starting with Greg Thornton, who plays Ralph as a hawk-faced, flint-hearted monster of self-will who, like Ebenezer Scrooge, has renounced human kindness. "All love is cant and vanity," he rasps, and you know at once that the fires of hell await him. What is most impressive about Mr. Thornton's performance, though, is that it isn't a caricature: You believe in its reality, which makes Ralph's decision to live without love even more horrifying....
* * *
Read the whole thing here.
The opening scene of the original Royal Shakespeare Company production of Nicholas Nickleby, telecast in 1983:
Posted February 14, 2014 11:00 AM
Tell A Friend