« TT: Lookback | Main | ABOUT "ABOUT LAST NIGHT" AND ITS AUTHORS »
January 14, 2014
TT: A dream come true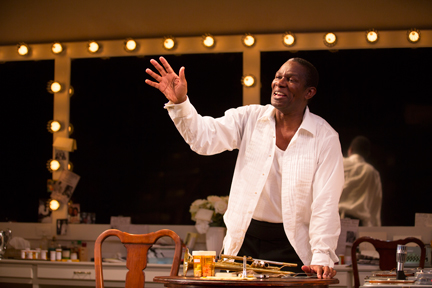 Satchmo at the Waldorf, my first play, is coming to New York at last.
Here is part of the official press release. For more information, go here.
* * *
It was announced today that, following acclaimed, sold-out runs at Long Wharf Theatre and Shakespeare and Company, Terry Teachout's play Satchmo at the Waldorf will enjoy a New York premiere this spring. Starring John Douglas Thompson and directed by Gordon Edelstein, Satchmo at the Waldorf will begin performances at Off Broadway's Westside Theatre (407 West 43rd Street) on Saturday, February 15. Opening night is set for Tuesday, March 4, 2014.
In March of 1971, one of the greatest music legends the world would ever know was performing the final set of shows he would ever play at New York's Waldorf Astoria Hotel. But the audiences who adored him onstage never really saw the man behind the trumpet. In Terry Teachout's searing and surprisingly intimate play, Satchmo at the Waldorf, we encounter Louis Armstrong where few ever had the chance to see him: backstage. Reflecting on his own unlikely career amidst a rapidly changing society, the icon is stripped bare, revealing complexities and contradictions that his omnipresent smile, horn and handkerchief belied. Critically acclaimed actor John Douglas Thompson, seamlessly morphing between Armstrong, his manager Joe Glaser, and fellow trumpeter Miles Davis, gives one of the most vivid portraits ever created for the stage....

Tickets for Satchmo at the Waldorf, priced at $39 and $79, are available online via Telecharge.com or by phone at (212) 239-6200/(800) 447-7400. Tickets will also be available for purchase in person, at the Westside Theatre Box Office (407 West 43rd Street).
* * *
Here's the poster:
Posted January 14, 2014 12:00 AM
Tell A Friend