« TT: Lift up your hearts | Main | TT: Almanac »
December 13, 2013
TT: Two solitudes
In today's Wall Street Journal I have nothing but good things to say about two plays by Conor McPherson, the New York premiere of The Night Alive and a Chicago revival of Port Authority. Here's an excerpt.
* * *
Conor McPherson's "The Seafarer," the best new play I've seen in the past decade, transferred from London to Broadway in 2007 and has since been done all over America. Now Mr. McPherson has returned to New York with another play on a closely related theme. Like "The Seafarer" before it, "The Night Alive" is an agonizingly black Christmastide tale of poverty, despair and transcendence that ends with a sharp twist--and it, too, is a stunner.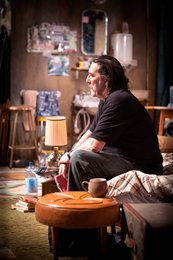 In his "Letters to a Young Poet," Rainer Maria Rilke spoke of "the love that consists in this: that two solitudes protect and border and greet each other." I thought of Rilke's words as I watched "The Night Alive," whose two central characters, trapped in their twin solitudes, struggle to bridge the yawning gap that separates them. Tommy (Ciarán Hinds), a fiftysomething failure who lives in one grubby room of a Dublin house owned by the disapproving uncle (Jim Norton) who raised him, picks up Aimee (Caoilfhionn Dunne), a sometime prostitute in her late twenties, after she gets into a brawl with her sinister boyfriend (Brian Gleeson). Both of them appear to have given up on life, yet they reach out to one another--slowly, haltingly--across the canyon of hopelessness to which the equally lonely Uncle Maurice gives voice: "You're just knocking the days off the calendar. There's even days when Mass just takes you nowhere, just deposits you back on the pavement, just another invisible man, knowing that the end is sneaking in on you and knowing it's gonna be the worst part of your life."
You've seen this plot before, more or less, and there are few surprises in Mr. McPherson's iteration save for the very last scene, which adds a quiet note of mystery to the proceedings. The beauty is in the telling, which is so fresh and full of coarsely vital poetry that you'll cling to every word, and in the acting, which is worthy of the script....
"Port Authority," a three-man play from 2001 in which Mr. McPherson weaves together a set of parallel monologues about love and disappointment, has just received a flawless revival out in Chicagoland. Directed by William Brown, who staged Writers' Theatre's frenziedly funny production of David Ives' "The Liar" earlier this year, "Port Authority" is being mounted in the smaller of the company's two houses, a 56-seat black-box theater located in the back room of a suburban bookstore. Mr. Brown's trio of Chicago-based actors (Patrick Clear, Rob Fenton, and John Hoogenakker) is identical in quality to the ones, Mr. Norton among them, who appeared to impressive effect in the play's U.S. premiere at the Atlantic Theater Company in 2008....
* * *
Read the whole thing here.
The trailer for the Writers' Theatre revival of Port Authority:
Posted December 13, 2013 12:00 AM
Tell A Friend