« TT: Almanac | Main | TT: Almanac »
November 29, 2013
TT: Twice in a lifetime
In today's Wall Street Journal I review the Broadway repertory runs of No Man's Land and Waiting for Godot, plus the premiere of Amanda Peet's first play, The Commons of Pensacola. Here's an excerpt.
* * *
How do you market highbrow theater? Cast British actors, then turn your show into an event. That's how the Ian McKellen-Patrick Stewart production of "Waiting for Godot," first seen on London's West End in 2009, made it to Broadway just four years after Nathan Lane, Bill Irwin, John Goodwin and John Glover appeared there in a splendid staging of Samuel Beckett's recherché masterpiece. Mounted on its own at so brief an interval, "Godot" might have been a tough sell, but Messrs. McKellen and Stewart and their producers figured out how to sweeten the pill: They're presenting "Godot" in repertory with Harold Pinter's even less penetrable "No Man's Land." The result? Sold-out houses every night. Snob appeal and artistic seriousness, however, are by no means incompatible, and while neither show is perfect, both are very much worth seeing.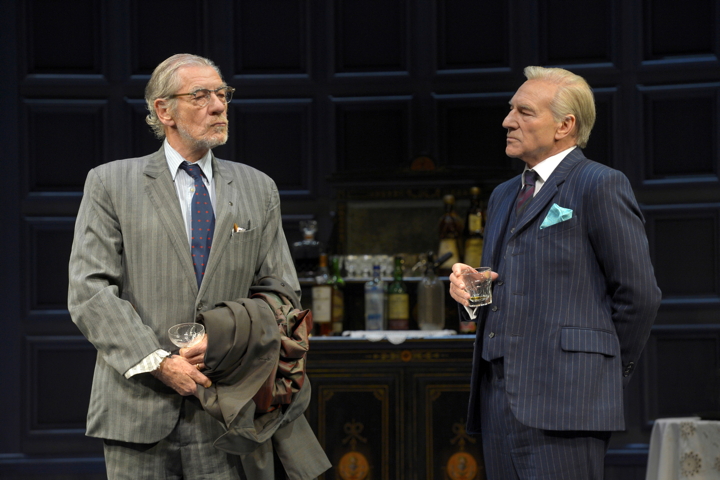 Indeed, "No Man's Land," which was last seen on Broadway in 1994, is a once-in-a-lifetime experience, a revival so creatively acted and sensitively staged by Sean Mathias that you'll be mulling it over for days after you depart the theater....
The first act of "Waiting for Godot," by contrast, is almost entirely unsatisfactory, and the reason why is plain to see. "Godot" is a black comedy about the meaninglessness of life, one whose dramatic rhetoric owes as much to baggy-pants slapstick as it does to existentialism, and it works best when done by comic actors like Mr. Lane (or Bert Lahr, who played the same role in the 1956 Broadway premiere). Neither Mr. McKellen nor Mr. Stewart fills that bill--they come off as Great Actors playing the parts of Great Comedians...
Amanda Peet, a smart, witty actor who found out that it's hard for a woman to land decent roles in Hollywood once she turns 40, decided to buck the odds by branching out and writing a play. Instead of starring in it, though, she talked Sarah Jessica Parker into taking over the role she'd written for herself. The result is "The Commons of Pensacola," in which Ms. Parker plays the fortysomething daughter of a woman (Blythe Danner) with a secret that is both embarrassing and illegal. Like Zoe Kazan, another first-class actor who writes plays on the side, Ms. Peet has a sharp ear for the way real people talk, and except for the last scene, which feels tacked on, "The Commons of Pensacola" is a very soundly made piece of theatrical goods....
* * *
Read the whole thing here.
A 1978 telecast of the original production of Harold Pinter's No Man's Land, starring John Gielgud and Ralph Richardson and directed by Peter Hall:
Posted November 29, 2013 12:00 AM
Tell A Friend