« TT: Lookback | Main | TT: Almanac »
November 12, 2013
TT: The real thing—almost
The Wall Street Journal has given me an extra drama column this week in which to review the Shakespeare's Globe productions of Twelfth Night and Richard III that are currently playing in repertory on Broadway. Here's an excerpt.
* * *
In 1997 Shakespeare's Globe, a London theater that duplicates as closely as possible the playhouse where the King's Men, the troupe of which Shakespeare was a member, performed between 1599 and 1613, was opened on the site of the original Globe Theatre. Now the Globe has set up shop in Broadway's Belasco Theatre to present "Richard III" and "Twelfth Night" in repertory, staging them in a manner that is as authentic as can be contrived in a proscenium house. The uncluttered playing area is fitted out with frame-breaking stage boxes and (mostly) lit with candles, the costumes are hand-crafted 17th-century replicas designed with awe-inspiring verisimilitude by Jenny Tiramani and Claire van Kampen's Elizabethan-style incidental music is played on Renaissance instruments. Above all, the women's roles, as was the custom in Shakespeare's time, are performed by men--among them Mark Rylance, who plays Olivia in "Twelfth Night."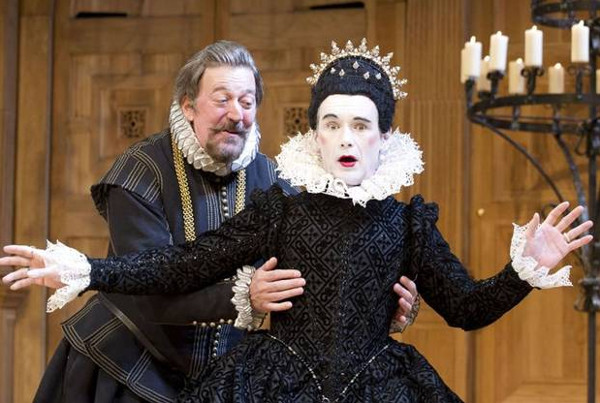 Needless to say, Mr. Rylance, one of the top classical actors of our time, is the draw for this ambitious undertaking. That said, it's the productions themselves, both of which were directed by Tim Carroll, that will likely be the real draw...
Having just seen Taylor Mac's astonishingly creative drag performance in Lear deBessonet's Public Theater production of Bertolt Brecht's "Good Person of Szechwan," I expected something more out of Mr. Rylance than standard-issue camp. On occasion he supplies it, in particular when he wistfully confesses that for a woman of a certain age, "youth is bought more oft than begg'd or borrow'd." For the most part, though, I found his acting to be over-obvious, at times blatantly so...
Mine, however, is a minority view--rarely have I seen so comprehensively crowd-pleasing a piece of comic acting--and even if you share my reservations about Mr. Rylance's Olivia, the rest of this "Twelfth Night" is so persuasive that you'll want to see it anyway. Not so "Richard III," in which Mr. Rylance is giving a performance of the title role that makes a sort of sense on paper but none at all in person: He has opted to play Shakespeare's hunchbacked monster of malignity as a milksoppy, simperingly adenoidal clown...
* * *
Read the whole thing here.
The trailer for Twelfth Night and Richard III::
Posted November 12, 2013 12:00 AM
Tell A Friend