« TT: Almanac | Main | TT: Almanac »
September 20, 2013
TT: Thrilling the kiddies
In today's Wall Street Journal drama column I report on two New York productions, the new Broadway staging of Romeo and Juliet and an off-off-Broadway version of Don Juan in Hell. One is much better than the other. Here's an excerpt.
* * *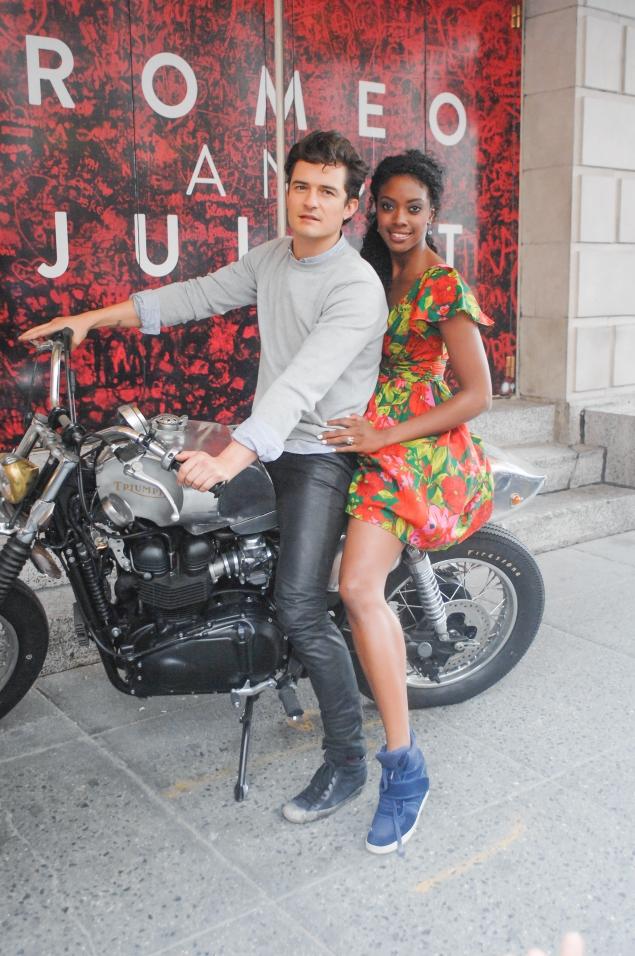 Shakespeare on Broadway is always a risky proposition, both financially and artistically. Even "Romeo and Juliet," which is as safe as it gets, hasn't been seen there for a quarter-century. Nor is David Leveaux a particularly safe proposition: Of the 11 shows he's previously directed on Broadway, only one, the 2004 revival of "Fiddler on the Roof," was a hit. So it makes sense that he should have taken out an expensive piece of flop insurance for his new production of "R & J." Orlando Bloom, the Romeo, is a movie star best known to American audiences for his appearances in the "Pirates of the Caribbean" franchise, and Mr. Leveaux has given him a cheer-for-the-star entrance: He rides a motorcycle onstage and pulls off his helmet, resulting in squeals from all the susceptible girls in the audience.
Would that Mr. Bloom's big entrance led to something interesting, but this "R & J" is a slick, weightless assemblage of modern-dress trickery (Romeo wears a hoodie and jeans) whose conception is as stale as its been-there-seen-that décor and TV-movie music....
To put the emphasis on youth is a perfectly honorable way to stage "Romeo and Juliet." I've seen many regional productions of the play that went out of their way to do so, often to exciting effect. Part of the problem here is that Mr. Bloom is a decade older than Condola Rashad, his 26-year-old Juliet, and looks every day of it. Most of the rest of the problem arises from the regrettable fact that neither Mr. Bloom nor Ms. Rashad has ever acted in a Shakespeare play. Broadway is not the place to make your debut as a classical actor, and Mr. Bloom turns in an energetic but emotionally unvaried performance in which he gives the impression of squeezing expression out of a tube instead of finding it in his lines....
In 1949 Charles Laughton made a tidy bundle by presenting "Don Juan in Hell," the 90-minute-long central sequence of George Bernard Shaw's "Man and Superman," as a dramatic reading performed on a bare stage by four big-name actors in evening dress (Mr. Laughton's colleagues on that celebrated occasion were Charles Boyer, Cedric Hardwicke and Agnes Moorehead). Since then it's become fairly common to see "Don Juan in Hell" performed in this frugal manner, but I've never seen it done separate from "Man and Superman" in a fully staged production. Hence the inherent interest of the Phoenix Theatre Ensemble's modern-dress version, directed by Karen Case Cook, in which Shaw's wordy but magnetically involving discussion of the meaning of life unfolds in a tiny theater on an abstract set designed by Tsubasa and Jennifer Stimple Kamei that looks like a piece of Asian installation art.
Accompanied by the eerie, perfectly timed electronic music of Ellen Mandel, Ms. Cook's "Don Juan in Hell" comes across as a full-blooded drama, not a debate. The staging, in which Shaw's characters are aware of and play directly to the audience, adds focus and emphasis to the proceedings...
* * *
Read the whole thing here.
The opening scene of Charles Laughton's production of Don Juan in Hell, recorded by Columbia in 1952:
Posted September 20, 2013 12:00 AM
Tell A Friend