« TT: Almanac | Main | TT: Here we go »
September 6, 2013
TT: Those other Danish guys
Today's Wall Street Journal drama column is the second of two reports from Wisconsin's American Players Theatre, in which I review productions of Rosencrantz and Guildenstern Are Dead and Hamlet (performed by the same cast) and a rare revival of Somerset Maugham's Too Many Husbands. Here's an excerpt.
* * *
Rare is the opportunity to see "Hamlet" played in repertory--and by the same cast--as "Rosencrantz and Guildenstern Are Dead," Tom Stoppard's 1966 pendant to Shakespeare's tragedy, in which we find out (in a manner of speaking) what the faithless friends of the melancholy Dane are up to when they're offstage. The problem is that the major roles in "Hamlet" are minor roles in "Rosencrantz and Guildenstern," thus making it hard for both shows to be mounted simultaneously other than by a permanent ensemble or in a festival setting. Fortunately, American Players Theatre fills the bill on both counts...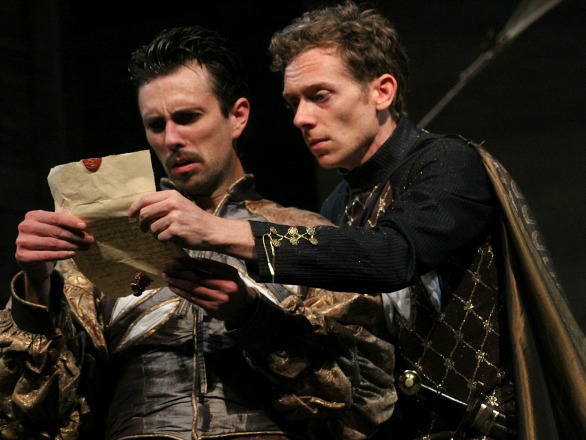 James Bohnen's trickery-free "R & G" (as Mr. Stoppard's play is known among theater people) is a text-driven staging in which the bewitchingly clever script is always to the fore, with Ryan Imhoff and Steve Haggard playing Rosencrantz and Guildenstern as a genial pair of youthful indie-flick types who don't know why they've been summoned to Elsinore, then are left to stand around and wait for...what? We, of course, know what they don't, We, of course, know what they don't, which is that King Claudius (Jim DeVita) has nefarious reasons for wanting them to spy on Hamlet (Matt Schwader), who has his own reasons for not wanting to be spied upon....
John Langs' "Hamlet" is a purposefully, unabashedly prosy version enacted with vitalizing speed and physicality (the climactic swordfight is positively scary). The costumes are traditional but the feel is contemporary, with Cristina Panfilio giving us a giggly Ophelia who has no notion of the black horrors that await her. Powerful cross-currents of dramatic tension are regularly relieved by laughter that never stoops to cheap irony. I wish that Mr. Schwader's Hamlet were a bit more alert to the rhythms of Shakespeare's verse, much of which comes off sounding like straight dialogue, but he fits into Mr. Langs' potent staging like a blade sliding into its scabbard...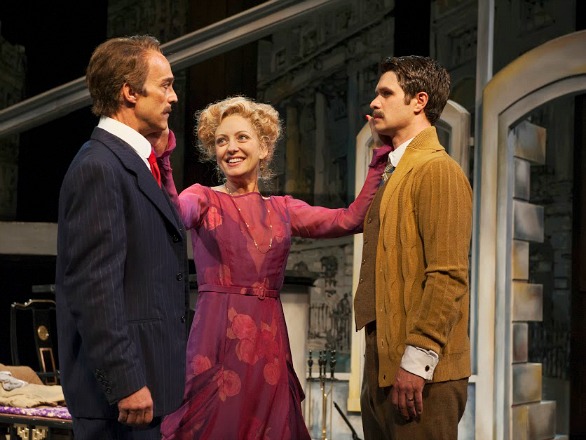 The Shaw Festival's revival of "Our Betters," about which I recently raved, left me wondering why Somerset Maugham's plays aren't better known. After seeing APT's champagne-like production of his "Too Many Husbands," my puzzlement has grown deeper still. Known in England as "Home and Beauty," this 1919 comedy, staged with lapidary timing by David Frank, is a raucously funny comedy about a high-society fluffhead (Deborah Staples) who marries her husband's best friend (Marcus Truschinski) after Husband No. 1 (James Ridge) is killed in the Great War. The catch is that he's not dead--and when he shows up in London a couple of weeks after the armistice, things get out of hand with dizzying rapidity....
* * *
Read the whole thing here.
Posted September 6, 2013 12:00 AM
Tell A Friend