« TT: The George Steel Opera Company | Main | LET'S NOT BE SENTIMENTAL ABOUT NEW YORK CITY OPERA »
September 13, 2013
TT: Poor relations
In today's Wall Street Journal drama column I praise two shows, Signature Theatre's premiere production of Horton Foote's The Old Friends and a revival in Maine, the Ogunquit Playhouse's West Side Story. Here's an excerpt.
* * *
Horton Foote and Tennessee Williams were friendly competitors when they started writing plays in the early '40s. Then Williams scored big with "The Glass Menagerie" and "A Streetcar Named Desire," and Foote dropped back into the middle distance, esteemed for his soft-spoken tales of small-town life but not widely known to the playgoing public until a few years before his death in 2009. Foote described Williams as "artistically my big brother" but "a little overwrought for my taste." Indeed, his understated style had next to nothing in common with Williams' flamboyant prose poetry, and I sometimes wondered how he really felt about his older colleague's commercial success.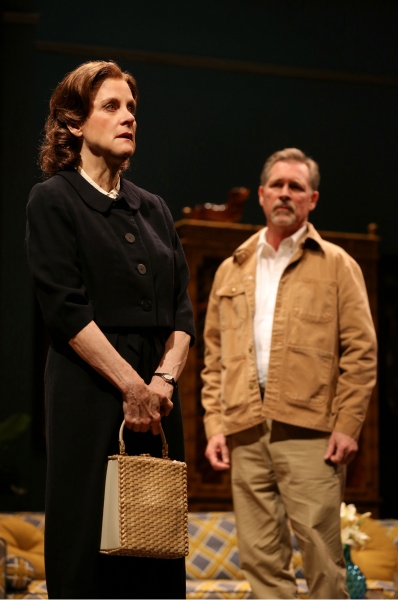 In "The Old Friends," a play with which Foote tinkered at odd intervals between 1964 and 2002 but which Signature Theatre is only now giving its first fully staged production, we get what may be a clue: "The Old Friends" is a high-strung drama of rich Texans and their poor relations that begins with drunkenness and death and ends with gunfire. It's as if the author of "The Trip to Bountiful" had said to himself, "I bet I could write that kind of play, too." Truth to tell, he couldn't--not quite. But "The Old Friends" though its constituent parts don't always fit together neatly, is still a powerfully engrossing character study, one that has at least as much in common with "Uncle Vanya" as it does with "Cat on a Hot Tin Roof."
Foote's Chekhovian streak comes to the fore in his treatment of the central characters, Sybil (Hallie Foote, the playwright's daughter), Howard (Cotter Smith) and Mamie (Lois Smith), all of whom failed to lead the lives they longed for and now find themselves deeply disappointed--but determined to do something about it while they still can. Not so Gertrude (Betty Buckley) and Julia (Veanne Cox), a pair of self-willed monsters who are no less determined to prove that even if money can't buy you love, it can at least keep you awash in booze and boyfriends....
Jerome Robbins' explosive choreography was integral to the impact of the original 1957 production of "West Side Story," and few major revivals of the show have dared to do without it. Now Ogunquit Playhouse has mounted a "West Side Story" directed by BT McNicholl and freshly choreographed by Jeffry Denman, both of whose work is new to me. To be sure, theirs is a traditional production whose dances are Robbinsesque to a fault, but it's still impeccably solid...
* * *
Read the whole thing here.
Posted September 13, 2013 12:00 AM
Tell A Friend