« TT: From another tongue | Main | THE UNSUNG ART OF THEATRICAL TRANSLATION »
August 16, 2013
TT: Cash and carry
In today's Wall Street Journal I report on my recent visit to Ontario's Shaw Festival, where I saw three superb revivals, Our Betters, Faith Healer, and Major Barbara. Here's an excerpt.
* * *
It isn't quite right to say that Somerset Maugham's plays are forgotten, but it's close enough to pass for true, at least in America, where the celebrated author of "Cakes and Ale" and "The Razor's Edge" is now known almost exclusively as a novelist and short-story writer. Yet there was a time when he was also one of the English-speaking world's most popular playwrights, and I've never seen a Maugham revival (there are such things) without asking myself why adventurous directors aren't willing to take a second look at his stage works. So the Shaw Festival deserves a wealth of plaudits for mounting "Our Betters," Maugham's 1915 comedy about a group of monied American expatriates who've come to England in order to marry titled, cash-strapped Brits. Moreover, they've done it so well that you'll be at a loss to explain why so crackling a satire hasn't been seen on Broadway since 1928.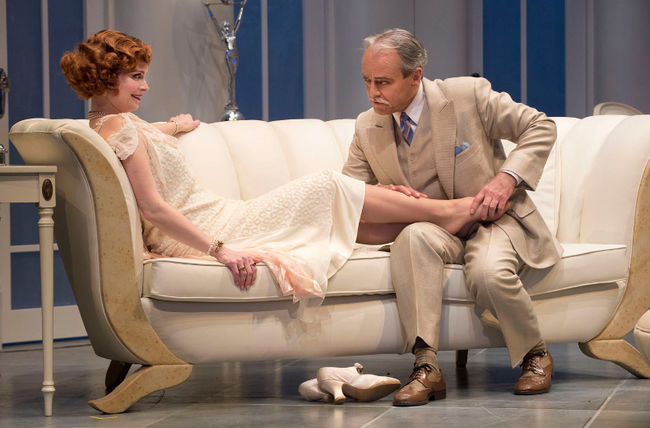 Maugham was an unabashed cynic, and the immediate appeal of "Our Betters" arises from the savagery with which its well-bred characters skewer the foibles of their friends ("If one wants to be a success in London one must either have looks, wit or a bank balance"). What makes it more than just a school-of-Wilde stage soufflé is his willingness to raise the dramatic stakes in the second act and let the same characters admit to the frustrated passions that they more often prefer to conceal with deceptively brittle badinage.
This production, like the Shaw's similarly rare and equally important 2012 revival of Terence Rattigan's "French Without Tears," is as good as it could possibly be. Morris Panych has staged it briskly and with just the right lightness of touch....
The most agreeable of the Shaw Festival's four performance spaces is the Royal George Theatre, a vaudeville house that has been transformed into a small but beautifully proportioned 328-seat proscenium-stage theater. In addition to "Our Betters," the festival is presenting two other plays at the Royal George, Brian Friel's "Faith Healer" (directed by Craig Hall) and Bernard Shaw's "Major Barbara" (directed by Jackie Maxwell, the festival's artistic director). Both are staged and acted with unusual sensitivity.
Anyone fortunate enough to have seen the 2006 New York revival of Mr. Friel's great play, in which Ralph Fiennes was cast as a drunken faith healer who is forced by chance--or fate--to face his deepest doubts, will be staggered by Jim Mezon's identically penetrating performance in the same role. Suffice it to say that lightning can strike the same tree twice. As for Benedict Campbell, who plays the seductively urbane arms manufacturer in "Major Barbara," he sails through that demanding part with the kind of virtuosity that you'd expect from a top-dollar Broadway star turn....
* * *
Read the whole thing here.
A clip from George Cukor's rarely seen 1933 film version of Our Betters:
Posted August 16, 2013 12:00 AM
Tell A Friend