« TT: He got there first | Main | TT: Almanac »
April 12, 2013
TT: You come, too
In today's Wall Street Journal I review Matilda and The Last Five Years. Here's an excerpt.
* * *
The makers of "Matilda" have done the impossible--triumphantly. They've taken Roald Dahl's popular children's novel and turned it into a big-budget musical that is true enough to the book to satisfy its youthful readers, yet sophisticated enough to delight childless adults who normally wouldn't be caught dead partaking of such kid stuff. It's smart, sweet, zany and stupendous fun.
Originally published in 1988, "Matilda" is a revenge fantasy for eggheads, the story of a five-year-old prodigy whose favorite books include "Crime and Punishment," "Tess of the d'Urbervilles" and "The Cat in the Hat." Alas, Matilda's aggressively anti-intellectual parents (Gabriel Ebert and Lesli Margherita) and stormtrooper-like headmistress (played in drag by Bertie Carvel) hate books and all who read them. Not to worry, though, for Miss Honey (Lauren Ward), a poor but kindly schoolteacher who fully appreciates her young charge's talents, which turn out to include telekinesis, helps Matilda vanquish the wicked and live happily ever after.
Dennis Kelly, who wrote the book, has turned Mr. Dahl's novel, parts of which are light on dialogue, into a fully stageworthy musical in which everything is shown rather than told. Tim Minchin's riotously eclectic score skitters unpredictably from pop to jazz to semi-Sondheim to good old-fashioned razzmatazz....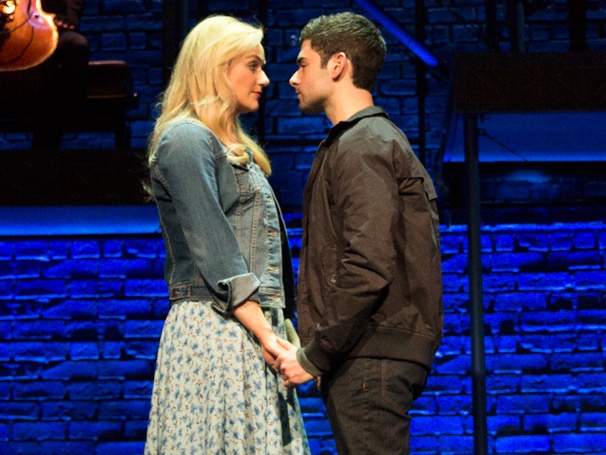 "The Last Five Years," Jason Robert Brown's two-handed musical about a young couple (Adam Kantor and Betsy Wolfe) who can't make a go of their marriage, has returned to New York after 11 years in a revival immaculately staged by the author. Every aspect of this Off-Broadway production, from the strongly sung performances of Mr. Kantor and Ms. Wolfe to the playing of the six-person band, is guaranteed to satisfy.
Whether you'll want to see "The Last Five Years" depends on what you think of its subject matter. Mr. Brown freely admits that the show was inspired by the breakup of his own marriage to an actress. Jamie, the "hero," is an up-and-coming novelist whose burgeoning success outstrips that of the neurotic Cathy, who is unable to come to terms with the awkward fact that his book is getting reviewed by John Updike in the New Yorker while she appears in second-rate summer theater in Ohio. So what does he do? Naturally, he dumps her...
What redeems "The Last Five Years," up to a point, is Mr. Brown's score. The music, which splits the difference between Hall & Oates and Ned Rorem, is better than the words, which could do with a medium-stiff dose of ironic detachment, but they fit together so comfortably as to overcome all objections--save to the premise of the show itself....
* * *
Read the whole thing here.
The original West End production of Matilda performs "Naughty" on last year's Olivier Awards telecast:
Posted April 12, 2013 12:00 AM
Tell A Friend