« TT: Snapshot | Main | TT: Found poem »
April 24, 2013
TT: Toward eternity
In today's Wall Street Journal I hail the opening of the Broadway revival of The Trip to Bountiful. Here's an excerpt.
* * *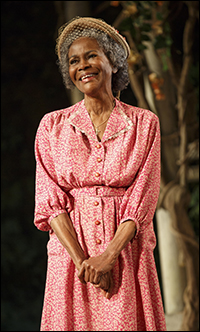 Horton Foote's "The Trip to Bountiful" is one of the half-dozen greatest American plays, yet its greatness has yet to be generally acknowledged. The reasons why aren't hard to grasp. Like all of Mr. Foote's plays, it's a soft-spoken character study, the tale of a tired old woman from Texas who hasn't seen her home town in 20 years, longs to do so once more before she dies and decides one day to go there. Nothing else happens, nor do the characters say anything especially memorable. They merely show you how ordinary people live their lives. The poetry--and "The Trip to Bountiful" is profoundly poetic--is between the lines. Yet no one with a receptive soul can fail to appreciate the play's myriad beauties, and Michael Wilson's new revival, in which Cicely Tyson returns to Broadway for the first time since 1983, is unforgettably excellent. I've never been more deeply moved by a theatrical production of any kind....
Ms. Tyson is, of course, the star of the show, but she never indulges in the kind of notice-me exaggeration to which "stars" too often stoop. Indeed, what is most striking about her performance is its total lack of sentimentality. She speaks her lines in a cracked, vinegary old-lady voice in which no trace of self-pity can be heard, trusting to Mr. Foote to do the rest. If you've ever felt the fear of watching an increasingly frail parent try to keep on living her life the way she always has...well, you'll feel it all over again as you watch Ms. Tyson on the stage of the Stephen Sondheim Theatre. That's the measure of the truth of her acting.
Part of what makes this production so fine is the unanimity with which Ms. Tyson's colleagues support her magnificent performance....
Most of the parts in this production of "The Trip to Bountiful," which takes place in Texas circa 1953, are played by black actors. "Non-traditional" casting, as it's known in the theater business, can be both gratuitous and distracting, but at its best it's capable of shedding fresh light on a familiar play. It works wonderfully well here, in part because it's never stressed....
* * *
Read the whole thing here.
Posted April 24, 2013 12:00 AM
Tell A Friend