« TT: Almanac | Main | TT: Almanac »
April 16, 2013
TT: Tears of a clown
So many shows are opening on Broadway this week and next that The Wall Street Journal has given me extra review slots to accommodate the overflow. In today's paper I review The Nance and Motown, the first enthusiastically, the second sulfurously. Here's an excerpt.
* * *
One o the most exciting things that a well-produced play can do is serve as a time machine, giving present-day audiences a privileged glimpse of the lost world of the past. That's what Douglas Carter Beane does in "The Nance," a dead-serious comedy set in New York circa 1937 in which Nathan Lane plays a self-hating gay man who makes a living playing outrageously effeminate gay men on the burlesque stage. Such comedians were known as "nances," and most of them were straight. The paradox that drives "The Nance," by contrast, is that Chauncey Miles, Mr. Lane's character, is the real thing--but that he lives in an age when his own sexuality is not merely unmentionable but illegal. It's an immensely promising premise, and Messrs. Beane and Lane, aided to the utmost by Jack O'Brien, the director, make the most of it.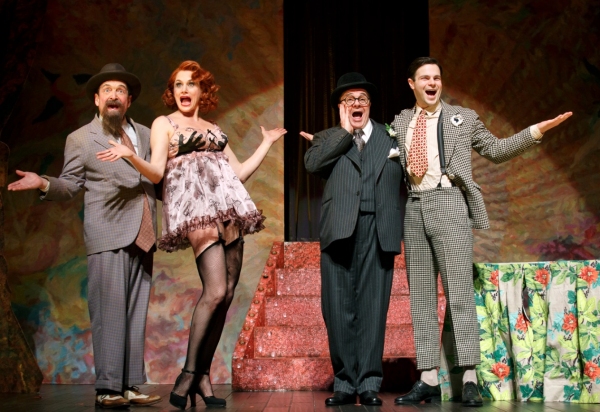 Produced on Broadway by Lincoln Center Theater, "The Nance" is a two-layered play in which authentic-sounding burlesque routines concocted by Mr. Beane and Glen Kelly, who wrote the original music, alternate with backstage scenes that show us in agonizing detail what Chauncey's emotionally starved private life is like. A straight-ticket Republican ("Say something nice about Roosevelt and prepare to have your eyes scratched out") who bristles at the very mention of socialism, he prefers his sex anonymous and takes it wherever he can find it....
Mr. Beane's previous plays and musical-comedy books have been by turns repellently bitchy ("The Little Dog Laughed," "Mr. and Mrs. Fitch") and cloyingly campy ("Lysistrata Jones," "Xanadu"). Not so "The Nance," in which he's found a way to use the campiness that is his primary theatrical color to relevant and moving effect. It helps immeasurably, of course, that Mr. Lane is giving the kind of richly realized performance of which playwrights dream...
Berry Gordy, the Oz of Motown Records, has now given us an autobiographical jukebox musical called, naturally enough, "Motown: The Musical." It's a vanity production in all senses of the word, since Mr. Gordy wrote the book himself. The results should have been called "The Genius of Me: How I Singlehandedly Transformed American Culture, Made a Gazillion Dollars and Slept With Diana Ross." If you're willing to sit through two hours and 45 minutes' worth of unbridled self-love, you'll get to see a stageful of actors pretending to be Mr. Gordy, Ms. Ross, Marvin Gaye, Michael Jackson, Smokey Robinson, Stevie Wonder and other such folk. The songs are great, the performances predictably predictable, the sets stupefyingly expensive....
* * *
Read the whole thing here.
Posted April 16, 2013 12:00 AM
Tell A Friend