« TT: Almanac | Main | TT: Plus ça change »
April 19, 2013
TT: Pinterland West
In the third of this week's Wall Street Journal drama columns, I review the Broadway premiere of Orphans and a revival of (eeuuww) Jekyll & Hyde. Here's an excerpt.
* * *
Alec Baldwin's self-transformation into a character actor is one of the most sensible and honorable things that a fading movie star has ever done. It's also made him available for occasional stage appearances in New York, most recently in the Roundabout Theatre Company's well-meaning but unsatisfactory 2006 revival of Joe Orton's "Entertaining Mr. Sloane." Now Mr. Baldwin is back in town with a better show. "Orphans," Lyle Kessler's 1983 play about a shady businessman who takes two down-at-heel brothers under his wing, has finally made it to Broadway after being mounted by just about every regional theater in America. It's become a dismayingly rare pleasure to see a serious play on Broadway, and though this revival, like "Orphans" itself, is far from perfect, it's still very much worth seeing.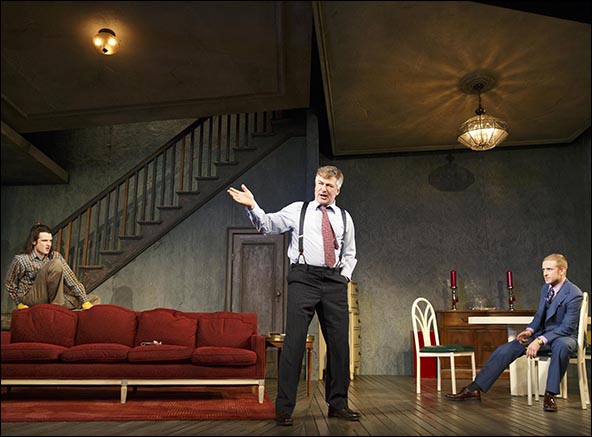 "Orphans" is the kind of show in which you're not supposed to be completely clear about what's happening onstage, or at least about what it means. Treat (Ben Foster) and Phillip (Tom Sturridge) live together in a crumbling row house in Philadelphia. Treat is a knife-wielding, near-psychopathic thug, Phillip a mentally disturbed child-man who never leaves the house and is wholly dependent on his brother. Treat runs into Harold (Mr. Baldwin) in a bar, gets him drunk, and lures him back to the house in order to hold him for ransom. Instead the smooth-tongued Harold turns the tables by hiring the brothers as his bodyguard-assistants and setting himself up as their father figure...
For all the fluency of its craftsmanship, "Orphans" gives the impression of having been knocked together out of spare theatrical parts. Not only is its premise self-evidently derived from Harold Pinter's "The Caretaker," but Mr. Kessler has pinched other elements of the play from sources as diverse as "The Glass Menagerie," "Our Town" and Sam Shepard's "True West." But it's still an exceptionally effective vehicle for three strong actors, and Mr. Baldwin is both strong and moving...
Even as the gods themselves are said to inveigh in vain against stupidity, so do drama critics the world over inveigh no less vainly against "Jekyll & Hyde," the wretched 1990 Leslie Bricusse-Frank Wildhorn musical that ran on Broadway for four years, after which it triumphantly toured the known universe, proving yet again that you can fool some of the people all of the time. Now it's back on Broadway again, this time in a new roadshow revival that has paused in its travels for a two-month run at the Marquis Theatre.
No matter who's doing it or where it's being done, "Jekyll & Hyde" is still tuneless and tiresome, a musical for those who prefer power ballads to show tunes but find "The Phantom of the Opera" too challenging....
* * *
Read the whole thing here.
Kevin Anderson and Matthew Modine in an excerpt from the 1987 film version of Orphans, directed by Alan J. Pakula:
Posted April 19, 2013 12:00 AM
Tell A Friend