« TT: So you want to see a show? | Main | TT: Almanac »
April 18, 2013
TT: He got his price
I have another bonus drama column in today's Wall Street Journal. In it I review two more Broadway openings, The Big Knife and The Assembled Parties. Here's an excerpt.
* * *
In 1937 Clifford Odets wrote "Golden Boy," among the greatest of all American plays. In 1950 he wrote "The Country Girl," a stilted, subadequate melodrama. What happened in between? He went to Hollywood, made a lot of money and lost his theatrical fastball--and his soul. Such, at any rate, is what Odets himself seems to have believed, the proof for which is be found in "The Big Knife," his 1949 play about a stage actor who does as his creator did and ends up consumed by self-loathing. "The Big Knife" got mediocre reviews, closed after just 109 performances and vanished from Broadway for six decades. Now it's back, courtesy of the Roundabout Theatre Company, which has given "The Big Knife" a top-of-the-line production directed by Doug Hughes and starring Bobby Cannavale, lately of "Glengarry Glen Ross." The results are so splendidly cast and visually sumptuous that it's possible--almost--to ignore the play's defects.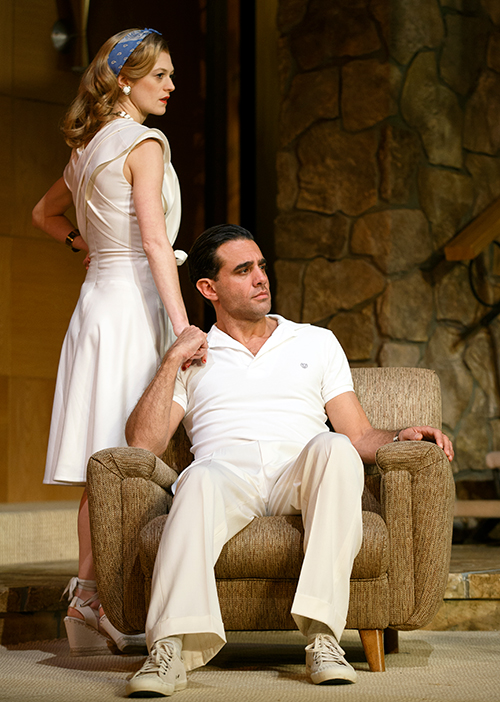 A synopsis borders on superfluity, since most of what happens in "The Big Knife" has long since been done to death by other writers. In a nutshell, Charlie Castle (Mr. Cannavale) wants to return to Broadway but finds himself at the mercy of a blackmailing studio head (Richard Kind) who is prepared to do absolutely anything (get it?) to keep him in front of the cameras. Stir in a high-minded wife (Marin Ireland), a sluttish but good-hearted starlet (Rachel Brosnahan), a school-of-Uriah-Heep agent (Chip Zien) and a thuggish studio fixer (Reg Rogers) and you get...well, an evening full of clichés. You have to work overtime to remind yourself that they weren't clichés in 1949, and Odets doesn't help matters by cramming "The Big Knife" full of flatulent speeches meant to persuade us that Charlie is a Great Artist Gone Wrong....
So why bother? Because Mr. Hughes and his actors are giving it all they've got--and they've got a lot. Mr. Cannavale starts off slow but picks up speed fast, and by intermission he's throwing flames in all directions....
If there's still such a thing as a commercial playwright, Richard Greenberg fills the bill. He's written three shows that have been or will be produced in New York this year. One of them, his stage version of "Breakfast at Tiffany's," has already posted its closing notice. Now comes "The Assembled Parties," an ultra-comfy, semi-serious comedy about a nouveau-riche Jewish family and the 14-room Upper West Side apartment in which they live. It is, like all of Mr. Greenberg's plays, well made but superficial, the kind of show whose ads describe it as "funny and heartwarming" and whose characters say not-quite-clever-enough things all the time...
* * *
Read the whole thing here.
The trailer for Robert Aldrich's 1955 film version of The Big Knife, starring Jack Palance, Ida Lupino, Jean Hagen, and Rod Steiger. The script is by James Poe:
Posted April 18, 2013 12:00 AM
Tell A Friend